Resident Health and Safety
By Erica Rascón on Mar 5, 2020 in News
From stomach bugs to the flu, viral outbreaks are a regular occurrence anywhere where community exists. When it comes to a new risk, such as COVID-19, property managers may feel that you are facing unknown terrain. Fortunately, a new release from the Center for Disease Control (CDC) sheds light on how to best care for your community.
Coronavirus identification and transmission
COVID-19, commonly called the coronavirus, is a respiratory disease. In late February, the US reported its first cases of COVID-19 in California, Oregon, and Washington. The first potential outbreak in a long-term care facility occurred in Washington. Multifamily and senior housing providers are advised take measures to promote resident health.
Coronavirus is most often spread by human-to-human contact, likely when the respiratory droplets produced by an infected person are inhaled by others. It is possible that the virus may spread when the respiratory droplets remain on a surface that is later touched by others. Coronavirus is "spreading easily and sustainably" within communities, reports the CDC.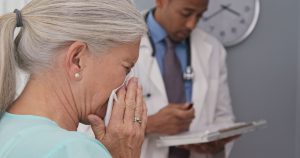 Within the first two weeks of exposure, fever, cough, and shortness of breath may present. Learn what to do if you believe you are infected.
Current data suggests that most cases of COVID-19 are mild, and only 16% of cases result in serious illness or death. Vulnerable populations, such as seniors and those with existing conditions of the heart or respiratory system, are at greater risk of serious illness.
Preventing coronavirus spread in the leasing office
There is a lot about the spread of COVID-19 that is still unknown. The following guidelines have been issued by the CDC based upon what is known about similar coronaviruses. The list below may help minimize exposure to respiratory illnesses in general.
Protect staff If your employees feel sick or are symptomatic, encourage them to stay home. Your sick leave policy should support their wellness and quarantining illness. If employees report an ill member of their household, implement or maintain flexible policies that allow them to stay home and care for them.
Hygiene and cleanliness Facilitate good hygiene on the premises. Provide disinfectant cleaning materials, disinfectant hand gels, tissues and touch-free disposal bins.
Also promote good hygiene with coughing and sneezing. Remind staff members to cover their cough or sneeze with a tissue, throw the tissue away, and then wash their hands for at least 20 seconds. In the absence of soap and water, a disinfectant gel of at least 60% alcohol should be used.
Frequently disinfect public surfaces such as door handles, bank transaction keypads, touchscreens, desks and other workspaces.
Communicate If an employee is confirmed to have COVID-19, employers should notify fellow staff members of their possible exposure as well. Maintain the confidentiality of the infected coworker as mandated by the Americans with Disabilities Act (ADA). Employees exposed to COVID-19 should refer to CDC guidance for how to conduct a risk assessment of their potential exposure.
Maintain communication with your public health department. Check for updates that can help to prevent an outbreak, mitigate risk, and control the spread of infection in cases of an outbreak.
Preventing coronavirus spread throughout the community
Distribute ways to prevent the spread of viruses at home via multiple platforms such as your community portal, emails, and newsletters. It may also be beneficial to post information in public spaces.
The National Apartment Association (NAA) has issued best practice guidelines for dealing with coronavirus in communities. The organization is also hosting a free webinar in conjunction with IREM on Tuesday, March 10. You can sign up for that here.
The developing story
COVID-19 outbreak is continually under investigation. The CDC is updating its site as the situation develops. Click here to check the CDC website for updates.
Get the full list of ways to prevent the spread of viruses in your community.