Reaching for the Sky
By Cutright Elizabeth on Dec 31, 2015 in News
The ancient Arabian port of Jeddah sits along the Red Sea, waiting patie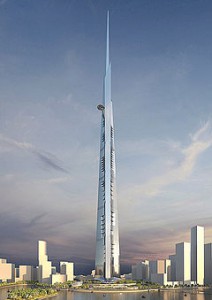 ntly for barges and cruise ships. Meanwhile, just a few miles north, desert dust rises up in bursts as new Jeddah City rises up from the amber dunes spread out along the Arabian Peninsula.
While the new Jeddah City's horizon may currently play host to construction cranes and scaffolding, in just under five years a modern oasis will shine amongst the desert sands, greeting tourists, international businessmen and pilgrims on their way to Mecca. In an effort to revitalize this important entry point into Saudi Arabia, the Kingdom City, Jeddah project will include 5.3 million square feet of shops, restaurants, offices, residential apartments unfurling at the base of Jeddah Tower, a 1-kilometer edifice set to seize the mantle of "tallest building in the world."
Previously known as Kingdom Tower and initially designed to be one-mile high, the revamped and slightly scaled-down Jeddah Tower will house a 200-room Four Seasons Hotel, over 300 apartments, and the world's highest observatory platform jutting out 200 feet above the mouth the city's man-made harbor. The sleek, futuristic, minaret with a completion date of 2020, will also include several viewing decks and a 250-meter spire striking out into the clouds. The tower is expected to cost about $1billion, with the entire project estimated to sit somewhere in the ballpark of $20 billion.
Indoor environment will be controlled via design and technology. Large notches along the exterior will allow for shaded terraces. Cool air at the tower's peak will enable natural cooling, and the tower's orientation guarantees no significant surface area will directly face the sun. The structure will also be energy and water efficient, with low-conductivity glass controlling cooling costs and thermal loads, and air conditioning condensate reused for irrigation and other water-related demands.
In order to account for wind load in the upper reaches of the troposphere, a triangular footprint and sloped exterior will reduce and redistribute wind load. By shifting shape at regular intervals, the tower's façade redirects gusts and gales, twisting and turning the wind's powerful embrace. With 59 elevators, including five double-deckers, 12 escalators three sky lobbies, visitors will travel 33 feet per second, a speed that will help occupants adjust to changing air pressure as they ascend to the tower's uppermost levels.
There are other sky scraping high-rises scattered across the planet, including China's Shanghai Tower in China, the International Commerce Centre in Hong Kong and New York's own One World Trade Centre. What makes Jeddah Tower stand out is its organic, innovative design. Architect Adrian Smith of Chicago-based Smith+Gordon Gill Architecture admits he found inspiration in the folded fronds of young desert plant growth.
"[Jeddah Tower] evokes a bundle of leaves shooting up from the ground–a burst of new life that heralds more growth all around it," Smith told Industry Leaders Magazine back in 2011.
Sitting on a 120-acre waterfront lot and located 12 miles north of the original port city of Jeddah, the development of the new Kingdom City is anticipated to reach new heights of prominence as the country's "gateway to Mecca." The creators of Jeddah Tower see it as an opportunity to deliver a symbol to the world of Saudi Arabia's wealth and power. The project's creator and leader Saudi Arabian Prince Al-Waleed bin Talal, known as "the wealthiest man in the Middle East," strongly believes in Kingdom City and its iconic tower.
"Building this tower in Jeddah sends a financial and economic message that should not be ignored," the Prince told the Wall Street Journal in 2011. "It has a political depth to it to tell the world that we Saudis invest in our country."
"It will fulfil the company's objective of creating a world-class urban centre that offers an advanced lifestyle so that Jeddah may have a new iconic landmark that attracts people from all walks of society." added Mounib Hammoud, the chief executive of Jeddah Economic Company, recently in a statement about the project.
The Jeddah Tower was initially planned as a 1.6km tower before the area's geology proved unsuitable for a structure of that height. While current construction technologies may not have yet advanced enough to push human ambition beyond Jeddah Tower's highest reaches, most believe it's only a matter of time before another "tallest building" follows. After all, conquering the horizon may be one of humanities most primal desires.
"The horizon is an incredible thing," architect Eric Parry eloquently mused in a recent interview about the project.
"We live with it but can never get over it."