Multifamily Demand Forecast
By on Nov 30, 2012 in News

The pace of continued economic recovery will determine whether the number of U.S. renter households will grow by 1 million or closer to 1.7 million between now and 2015.
That's the consensus of a recently released report from Freddie Mac's Multifamily Research department, which also notes that there has been major growth in the single family home rental market. The number of 1-4 unit buildings rented has grown by 3 million – a 16 percent increase – since 2007.
The report casts a rosy glow over the future for multifamily, which has been enjoying low vacancy rates and rising rental incomes in most markets for the last couple of years.
Economic uncertainty plays a major role in determining whether Americans will rent or buy homes, and the overall state of the economy is stated to be the primary factor in determining the level of continued multifamily growth, according to the Freddie Mac analysts.
Three possible scenarios, depending on the pace of the recovery, are:
-The economy will recover at a quicker than expected pace, meaning that rental demand will be tempered by home buying. Up to 1 million renters could join the market between now and 2015.
-The economy will continue its current slow recovery, resulting in a drop in the homeownership rate (between 1-2 percent) and continued growth in the number of renter households – up to 1.7 new renters between now and 2015.
-The economic recovery will stall, causing more uncertainty for potential homebuyers and leading also to increased and ongoing renting – up to 1.6 million new renters between now and 2015.
See the chart below with forecast factors for unemployment, foreclosure, multifamily supply and home price growth given the three scenarios.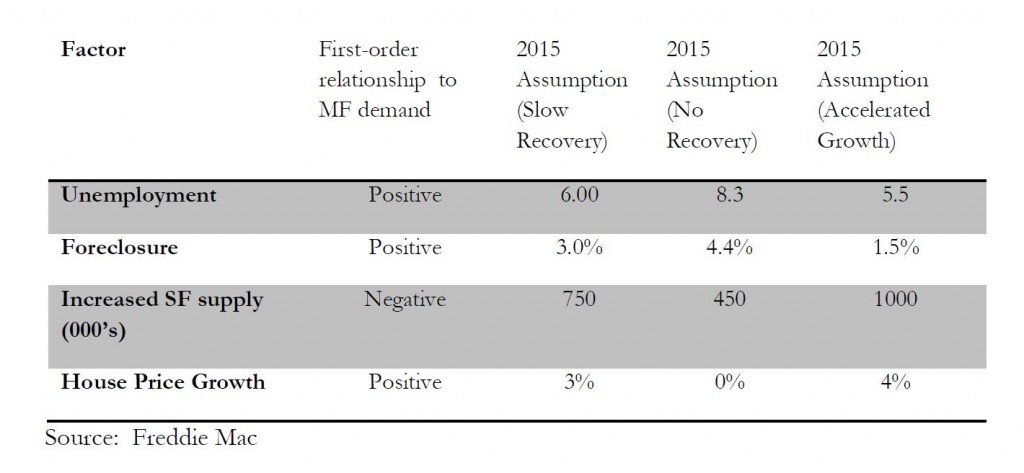 It's worth noting that certain urban multifamily markets, the so-called "Sexy Six" that buoyed the multifamily recovery, have been the most dramatic winners in the recent recovery. New York, Boston, Washington, D.C., the Bay Area, Southern California, and Seattle have enjoyed strong consumer demand for properties.
As you look at the next three years for multifamily, what are your personal prognostications? Are there any regional markets that are poised to expand the ranks of the Sexy Six?