IoT in Student Housing
By Adina Marcut on Dec 20, 2019 in News, Technology
The Internet of Things (IoT) has achieved great popularity in the last decade as it increases the comfort and quality of life. A growing number of homes and commercial properties have smart systems controlled by smartphones and microcontrollers through wireless communication techniques. The trend applies to student housing too. A smart strategy can help universities and property managers improve facility management, lower operational costs and enhance student experiences.
Millions of students will head to class this fall with tablets and smartphones in tow. All those students are expecting lightning fast Wi-Fi to get the job done on campus and in student housing. IoT is reshaping not only the way students learn, but the way they live. According to Securedge Networks, by 2020 more than $1 trillion will be spent on IoT devices for college campuses across the country.
Many universities have implemented smart technology in dorms. For example, Saint Louis University and Arizona State University have installed Amazon Echo Dot devices to help students get information on campus activities. University of Chicago, New York University and University of California, Davis also partnered with Telkonet to help students control the thermostats via a mobile app. According to Telkonet, colleges and universities spend roughly $14 billion on energy expenditures every year. A lot of energy is potentially wasted. Dorm rooms are vacant approximately 70 percent on an average day.
IoT as a Service on in Student Housing
Most colleges are skeptical when it comes to investing in non-essential technology due to limited budgets. Partnerships can lower project costs. The latest innovation in student housing tech comes from a partnership between Balfour Beatty Campus Solutions and IOTAS (which stands for IoT-as-a-Service). The developer and operator of infrastructure projects for colleges and universities united with the premier smart apartment technology innovator to deliver an integrated smart home experience for students. The partnership targets energy savings, security improvement in residence halls, and marketing to tech-savvy prospects.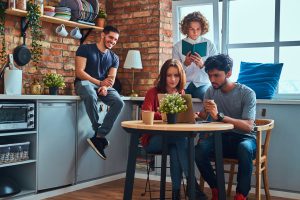 A few states away, Aspire at Discovery Park offers students the possibility to fully operate and customize their living units via a mobile app. The units feature various smart features including smart lighting, thermostats, outlets, sensors and locks, as well as a full integration of Amazon Echo and Google Assistant.
Located in the Discovery Park district of West Lafayette, Indiana, the community ranks as the region's  first property to include a fully-integrated smart home system installed during construction. The system operates in all 835 units. Currently found in multifamily communities across 40 U.S. markets, the IOTAS system connects residents' and property managers' authorized devices to smart home features such as:
smart switches, outlets, door locks and thermostats
door, humidity and motion sensors
leak detection
ceilings fans
window coverings
garage door control
A Broader Reach with IoT
Students use IoT devices to access homework assignments or to access classes remotely via video conferencing. On the other hand, alerts can be sent for those students skipping classes, which benefits school officials to help those who may be struggling academically. Colleges and universities are also trying to reduce traffic congestions, increase road safety—both for drivers and pedestrians—and lower carbon emissions by jumping into the autonomous vehicle cause.
These days, the quality of a student housing community is determined by its tech offerings. Families consider Wi-Fi strength, coverage range, and other tech factors when making a decision on student housing.