Helping After Irma
By Geneva Ives on Sep 15, 2017 in Giving, News
When Hurricane Irma devastated a string of Caribbean islands and loomed off the coast of Florida, it had been less than two weeks since Hurricane Harvey made landfall in southeast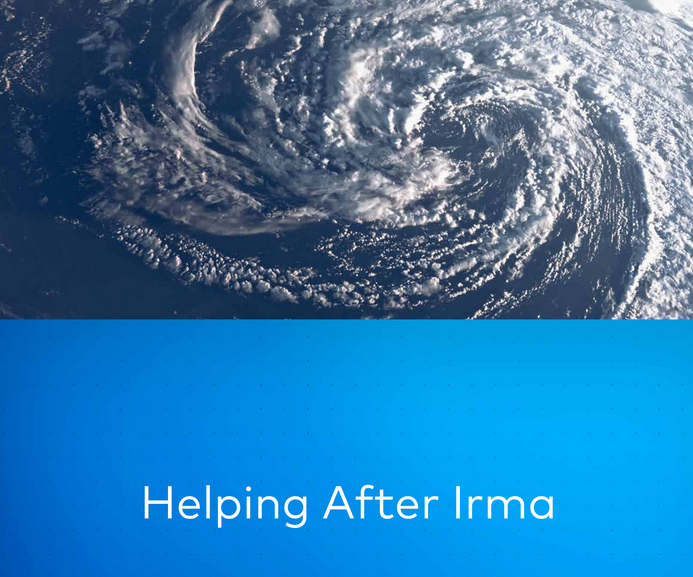 Texas, displacing thousands of people from their homes. Irma was the strongest Atlantic basin hurricane ever recorded. It triggered evacuation orders for 5.6 million people and made two landfalls before being downgraded to a tropical storm on Monday, September 11.
For a second time this summer, our team members mobilized for a natural disaster response. Having recently created a housing website to help those affected by Harvey find temporary and permanent homes, we used this experience to quickly launch another dedicated housing registry to assist residents displaced by Irma.
Leveraging our RENTCafé property marketing and leasing platform, RentCafe.com/HurricaneIrma allows displaced residents to find new housing. It also makes it possible for housing providers with properties in the affected and surrounding areas to quickly and easily list available units, some with special concessions.
There is no charge for companies to list their properties on the website or for residents to use it. There is also a toll-free hotline that evacuees can call seeking housing assistance if internet is not available. The hotline can be reached at (844) 363-6317.
With many clients in the affected areas, we're offering disaster response assistance for clients affected by either hurricane, including additional program support and tools to help clients communicate with their residents during the aftermath. Taking care of our clients is a critical part of the Yardi mission statement, and representatives are reaching out now to offer these and other services at no charge.
"The best-case scenario for everyone is that our disaster response efforts remain untested, but we have them in place so that we can aid those in need," said Gordon Morrell, executive vice president at Yardi. "As we did for the people affected by Hurricane Harvey, we are ready to help the people displaced by Hurricane Irma get back on their feet as quickly as possible."
If you are a Yardi client affected by Hurricane Irma, we encourage you to share your story with us. Reach out to [email protected] to share how you helped your residents deal with this destructive natural disaster.