Glassdoor Honor
By Leah Etling on Jan 12, 2023 in News
Yardi has been honored with a Glassdoor Employees' Choice Award for the third time as one of the Best Places to Work in 2023.
The Glassdoor Employees' Choice Award is based solely on the input of employees, who voluntarily provide anonymous feedback by completing a review about their job, work environment and employer on Glassdoor, the worldwide leader on insights about jobs and companies.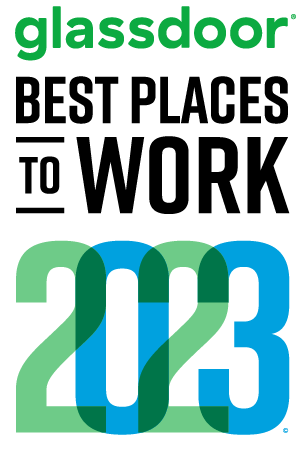 "Taking care of our employees and offering opportunities to contribute to our clients' success are guiding principles at Yardi," said Anant Yardi, the company's president and founder. "We are honored to receive this prestigious award again from Glassdoor, and we are grateful for the supportive culture that has been fostered at all levels within our organization."
For 2023, Yardi is No. 76 out of 100 companies on Glassdoor's Best Places to Work US Large list with a 4.4 rating. The company was previously honored in 2020 and 2018.
Here are some of the comments current employees have made recently about Yardi on Glassdoor:
"(Yardi is a) wonderful place to work. Flexibility, good pay & benefits, and caring, supportive team and leader. Privileged to work for such a philanthropic company that values both its clients and employees."
"The company has been incredible to work for throughout the pandemic and treats its employees and their families as good as I've ever seen."
"Management and team leads meet with you often to check in on how you are doing, career goals, questions, concerns. They do so in an authentic way, not obligatory. Leadership has not only asked these questions but has great follow through. They have helped guide me on a path based on my own career goals and they also encourage "out of the box" ideas and love when you take initiative."
Yardi is currently hiring, and you can find worldwide career opportunities on the Careers page.
Glassdoor's Best Places to Work winners were determined using company reviews shared by U.S.-based employees between October 19, 2021 and October 17, 2022. During the year-long eligibility period, employers considered for the large list must have received at least 75 ratings for each of Glassdoor's nine workplace attributes (overall company rating, career opportunities, compensation and benefits, culture and values, diversity and inclusion, senior management, work-life balance, recommend to a friend and six-month business outlook).
"It's encouraging to see companies doubling down on employee mental health and wellbeing, diversity and inclusion, competitive benefits and flexible work environments as we head into 2023. I sincerely congratulate all of the Best Places to Work winners," said Christian Sutherland-Wong, Glassdoor Chief Executive Officer.
For the complete list of the Glassdoor Best Places to Work winners in 2023, please visit: gldr.co/BPTW