Yardi IM on the Road
By Joel Nelson on Sep 19, 2023 in Events
The Yardi Investment Management team has a full slate of events across the country as the 4th quarter beckons. Along with cosponsoring several of these major industry forums and conferences, Yardi sends expert teams to demonstrate the value of the Yardi Investment Suite, an end-to-end technology platform that automates the real estate investment lifecycle.
Key upcoming real estate investment events include:
IMN Real Estate CFO & COO Forum
Date: Oct. 2
Place: New York City
Geared toward CFOs, COOs, tax and accounting officers, controllers and treasurers, the 11th annual staging of this event offers insights from real estate developers, lenders, REITs and operating companies. Sessions focus on trends in accounting, regulations and technology, along with fund raising, the power of AI and more.
IMN Real Estate Family Office and Private Wealth Management Forum
Date: Oct. 4-5
Place: Miami
This event showcases opportunities in the family office asset class, which allocates about 15% of its portfolio to real estate direct investments. This forum is suited to asset managers, debt and equity financiers, family business owners and investment consultants, among others.
Learn more and meet with the Yardi team.
IMN Middle-Market Multifamily Forum West, Northeast and Arizona
Date: Sept. 19-20 (West), Oct. 10 (Northeast), Nov. 13-14 (Arizona)
Place: Carlsbad, Calif. (West), New York (Northeast), Litchfield Park, Ariz. (Arizona)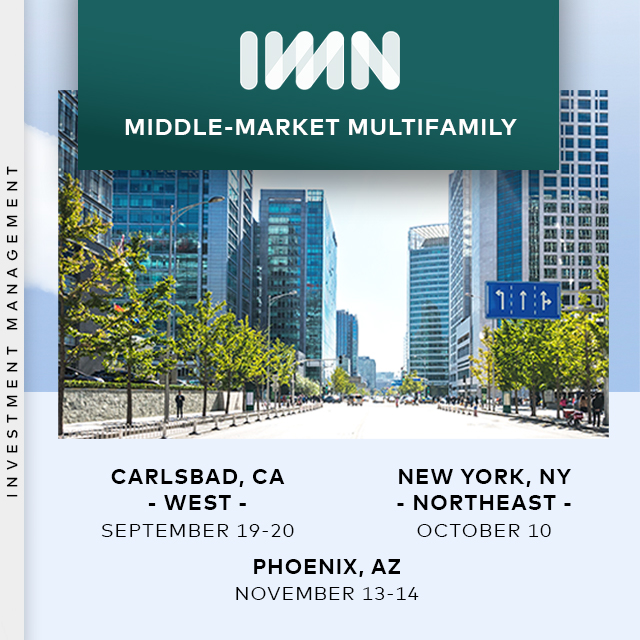 Targeting small and mid-sized multifamily owners and operators, these deep dives explore issues, opportunities, strategies and trends that impact a class that comprises 75% of all multifamily investors. Value-add strategies, working with institutional capital and the "acquisitions shark tank" are among the industry leader-led sessions on tap.
Learn more about the Carlsbad, New York and Litchfield Park events.
Learn more about the industry events that Yardi participates in as a sponsor, expert and exhibitor.