Yardi + AIM
By genevai on Sep 1, 2020 in Events, Marketing
Are you missing live events? While we can't bring back the hum of the tradeshow floor just yet, we're excited to team up with AIM to host a live webinar event that we hope will rival some of your favorite speaking sessions from conferences past. Keep reading to see how we're bringing industry leaders from Bozzuto, KETTLER and The Management Group together on one virtual stage … and why you want to reserve your seat asap.
The New Apartment Marketing Playbook: Consumer Behavior Has Shifted, Have You?
Thursday, Sept. 17, 11 a.m. PDT
Even as the COVID-19 pandemic continues, renters are still on the move. With social distancing measures in place, renters expect to interact with properties in new ways. This increasing demand for virtual and contactless engagement is nothing new. But now that we've adapted to a new norm and the virtual conveniences that come with it, there's no going back.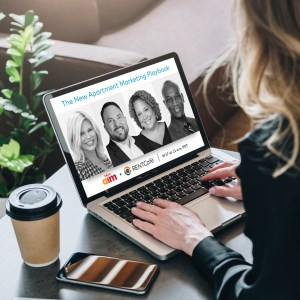 Considering this shift in consumer behavior, here are some questions your property management teams may be facing: Is it possible to create an online experience as powerful as a visit to your properties? How can you offer game-changing online and self-service tools that don't compromise your security standards? What should your leasing agents be doing to pivot and provide real value in an increasingly virtual world?
"Don't lose customers to your competitors while you're waiting for things to 'get back to normal.' Normal as we knew it is changing. Taking this opportunity to make smart updates to your leasing process will have a lasting positive impact on your business in the months and years ahead," said Esther Bonardi, session moderator and vice president of marketing at Yardi.
During this live online event, you will learn how to:
Convert more renters by creating authentic experiences online
Lease more units by offering a range of tour types to fit every need
Improve the prospect experience while prioritizing the safety of your team and properties
Evolve leasing positions to meet the demands of the new customer experience
Speakers include:
Jamin Harkness, Executive Vice President, The Management Group
Kelley Shannon, Senior Vice President, Marketing & Customer Engagement, Bozzuto
Daryl Smith, Senior Vice President & Chief Marketing Officer, KETTLER
Free ebook
Webinar registrants will receive a free copy of The New Apartment Tour with their confirmation email. This exclusive ebook details three ways you can modernize different tour types at your properties to convert more renters, both online and in person. Save your seat today to get your copy.