UKAA Expo 2020
By Yardi Blog Staff on Feb 17, 2020 in Events, Global
It was great to see 400+ people representing the UK's fast-growing build to rent sector last week at the UKAA Expo 2020; the third event of its kind hosted by The UKAA. Yardi was there in full force with a team of seven passionate residential specialists, all eager to learn, ne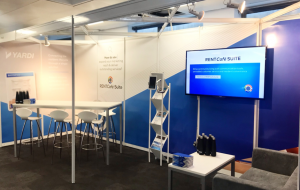 twork and engage with the market.
Early bird catches the reverse-trade show worm
For many, the day started at 10am, but for the exhibitors and operators, it was an earlier start. A conventional tradeshow concept was flipped on its head at The Reverse Tradeshow, giving exhibitors the opportunity to attend 10-minute quickfire meetings with operators. It is great to see companies like EcoWorld, Folio London, Henley Investment Management, PLATFORM_ and Packaged Living investing time into further supporting the growth of the market.
Networking and more networking
It was all systems go when the doors opened at 10am. The exhibition was home to suppliers from all corners of residential real estate, including PropTech companies, law firms and regulatory organisations.
Market Perspectives
We were keen to ask other eventgoers how they found the day and get a perspective of their understanding of the market.
Justin Harley, Regional Director at Yardi interviewed Lesley Roberts, President of the UKAA and Partner & Executive Director at Allsop, who advised BTR operators to be passionate about customer service, understand the market and find good suppliers.
Justin also interviewed Paul Belson, PRS & BTR Investment Consultant who recognised the increase in PropTech innovation and The UKAA's CEO, Dave Butler, who explained the key to success is to know your customer.
Click on each image to watch the full interviews.
Session Take-Aways
Richard Lankshear, Innovation Manager of NHBC was first to take to stage where he gave some inspiring examples of innovation, including how French Gardner Joseph Monier combined two materials to strengthen plant pots and unknowingly created the most widely used material in modern day construction – reinforced concrete.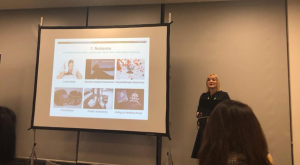 Session two was a sobering, yet immensely powerful session, moderated by Tracey Hartley of The Howard de Walden Estate. Deborah Brown of Walker Morris explained the importance of understanding, recognising and acting upon behavioural and environmental impacts within residential communities. Stephanie Orr of Surviving Economic Abuse shared some eye-opening facts including results of a Crime Survey of England & Wales that showed 10.7% of women in private rented homes have experienced domestic abuse – a figure not to be ignored by the industry.
Impressive Technology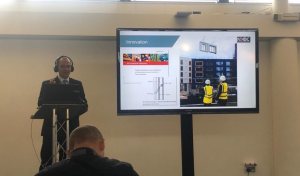 We were truly impressed by the technology presented in Session 3 by Ross Jenner, Sales Director of VU.City demonstrating the utilisation of gaming technology to create an accurate 3D model of London to within 15cm accuracy. Having mapped all 9,800 trees in London, Jenner claimed that it is potentially 'the most accurate tree survey of London ever done'. Overlays of conservation areas, protected views, flood risk, air pollution, broadband speed, excellently serve the purpose of assisting the pre-application and planning process.
One of the most popular sessions of the day was session 6 – Brand Marketing 2020. The relevance of digital marketing was expressed with how mobile use has increased by 50% in the past 2 years, compared to print which is down 25%. Influencer Marketing was also recognised as being able to increase marketing ROI and how todays spend of $5 billion will increase to $10 billion in 2022
Until Next Year…
Dave Butler, CEO of The UKAA summarised the day nicely over a closing reception. He thanked sponsors, exhibitors, speakers and his team at the UKAA for collaboratively putting on another successful UKAA Expo.