Realcomm | IBcon
By Luis Estrada on Oct 20, 2020 in Events
Yardi is proud to be the Diamond Plus Elite Sponsor of the first Realcomm | IBcon hybrid conference. Due to the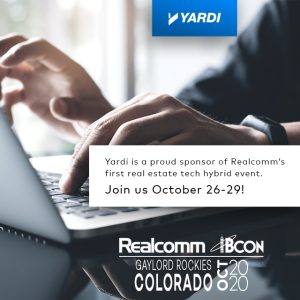 unique and challenging circumstances this year, the event will begin October 26 in a virtual setting with in-person sessions starting October 28 at the Marriott Gaylord Rockies Resort in Aurora, Colo. This premier event hosts hundreds of commercial and corporate real estate executives to discuss technology, automation and innovation.
As part of the event, Yardi will have numerous speaking opportunities:
Monday, October 26
Senior director Arjun Rao will host a CEO/COO roundtable discussion titled "The Future of Office Leasing: Challenges and Opportunities Explored," focusing on leasing, demand for space in urban and suburban markets, as well as key factors for restructuring leases.
A CIO roundtable focused on the outlook for private equity and the impact of technology on big spend will be hosted by Rob Teel, senior vice president of global solutions.
Teel will also participate in a Realcomm LIVE interview to discuss current trends in the real estate industry.
Founder and president Anant Yardi will join global thought leaders sharing their visions for the future of real estate technology, the economy and the workplace experience beyond the pandemic.
Tuesday, October 27
Anant Yardi will join a panel titled "Industry Leaders Weigh in on Surviving and Thriving in Uncertain Times" to discuss how the real estate industry is trying to define the new normal.
Wednesday, October 28 
Brian Sutherland, industry principal for commercial, will also take part in a Realcomm LIVE interview session to discuss Yardi's position in commercial real estate during the pandemic.
Check out the full conference agenda, which will be updated continuously as more speakers and sessions are added. Visit Realcomm for more information or to register for the conference.