Realcomm | IBcon
By Luis Estrada on Dec 8, 2020 in Events
Due to unique challenges this year, the 2020 Realcomm | IBcon Conference changed to a new hybrid format with two days of virtual sessions followed by a day of in-person sessions. As part of the virtual event, Yardi president and founder Anant Yardi participated in the opening session panel, as well as a thought leadership discussion with other industry software providers.
Mr. Yardi's vision for the future of the commercial real estate industry was optimistic, while stating the importance of businesses adapting to a new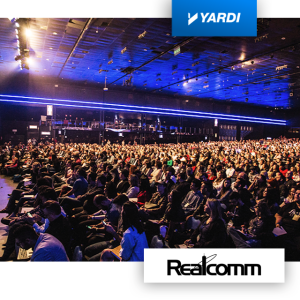 normal. In the opening session, "#COVID.RE.Economy.Technology.NewNormal," he reflected on the difference between gathering 2,500 people in one venue at the last Realcomm conference in June 2019, versus a virtual environment over two full days of content in October 2020. "I yearn for those times when we were able to be face to face," he stated. "But we understand change, we recalibrate and navigate that change."
Property owners and managers are likely to have some concern over whether tenants will need their space at the end of the lease, but enterprise corporations such as Microsoft and Exxon are leading the way on hybrid work models, which may be the new normal. Workers could access the office at some points during the week for team collaboration and then continue to function normally from remote environments, be it at home or a shared coworking location. For those companies seeking more space, often satellite offices, Mr. Yardi sees a trend where clients search available sublease space or sections of coworking offices to bring workers back into a collaborative environment.
A significant challenge for the future of the office sector is occupancy levels. While a majority of tenants have managed to successfully pay rent and offices are slowly beginning to reopen, capacity restrictions and general health concerns are going to keep occupancy reduced for the near future.
However, this may not mean that there will be less need for workspace. There are several potential paths which lead to different real estate strategies. Some businesses could move to a hub and spoke model, where they maintain a centralized location but expand into the suburbs to be closer to where employees live. Many workers have cited mass transit concerns as a reason for unease in returning to the office. Some offices may expand their existing locations to accommodate necessary distancing between workstations.
In another discussion, "Industry Leaders Weigh in on Surviving and Thriving in Uncertain Times," the focus for Mr. Yardi was to detail what a hybrid work environment may look like. "I think most companies will select this option, and based on surveys we've done, the right combination may be to find how much time we work from home and how many days you will go to the office," he stated. One of the surveys he referenced showed that managers would like entire teams to be present when they do go into the office to build interaction, innovation and ideation.  Office space layout will change as well, to foster team and culture building. Desks will likely not be crammed back to back and the concept of hoteling (reserving open desk space in a common office) will become more prevalent.
New tech advances have played a stunning role in the transition away from the office and now back again. Physical enhancements such as thermal scanning, air quality sensors, elevator capacity limitations and touchless devices are just some of the ways we adapt to a safer, healthier work environment. Software drivers such as contact tracing, mobile space reservations, telemedicine, automated paperless billing and forecast analytics may all play an important role.
As Mr. Yardi explained, artificial intelligence, big data and the Internet of Things will continue to play a very prominent role in our transition to the new working normal. With these advanced functionalities, companies can better assess the state of business and make stronger predictions for the future based off analytics. "Proptech is leading the way, along with the companies that use advanced tech to service the real estate industry," Mr. Yardi stated.
Mr. Yardi acknowledged the difficulties that this year has brought to the real estate industry, but his optimism and enthusiasm were contagious. "This is the fourth recession for me, and I know we have to deal with all of the changes and wonder how things will play out, but we look forward to the future. Real estate will bounce back and I look forward to meeting everyone face to face at Realcomm 2021."