2023 Fall Multifamily Events  
By Vianna Mabanag on Aug 28, 2023 in Events
Planning to attend multifamily events this fall and winter? Chances are we'll be there! This is a great opportunity to strengthen your industry connections and see how a connected system benefits every stage of your workflow. Explore this list to see how you can connect with us at every event.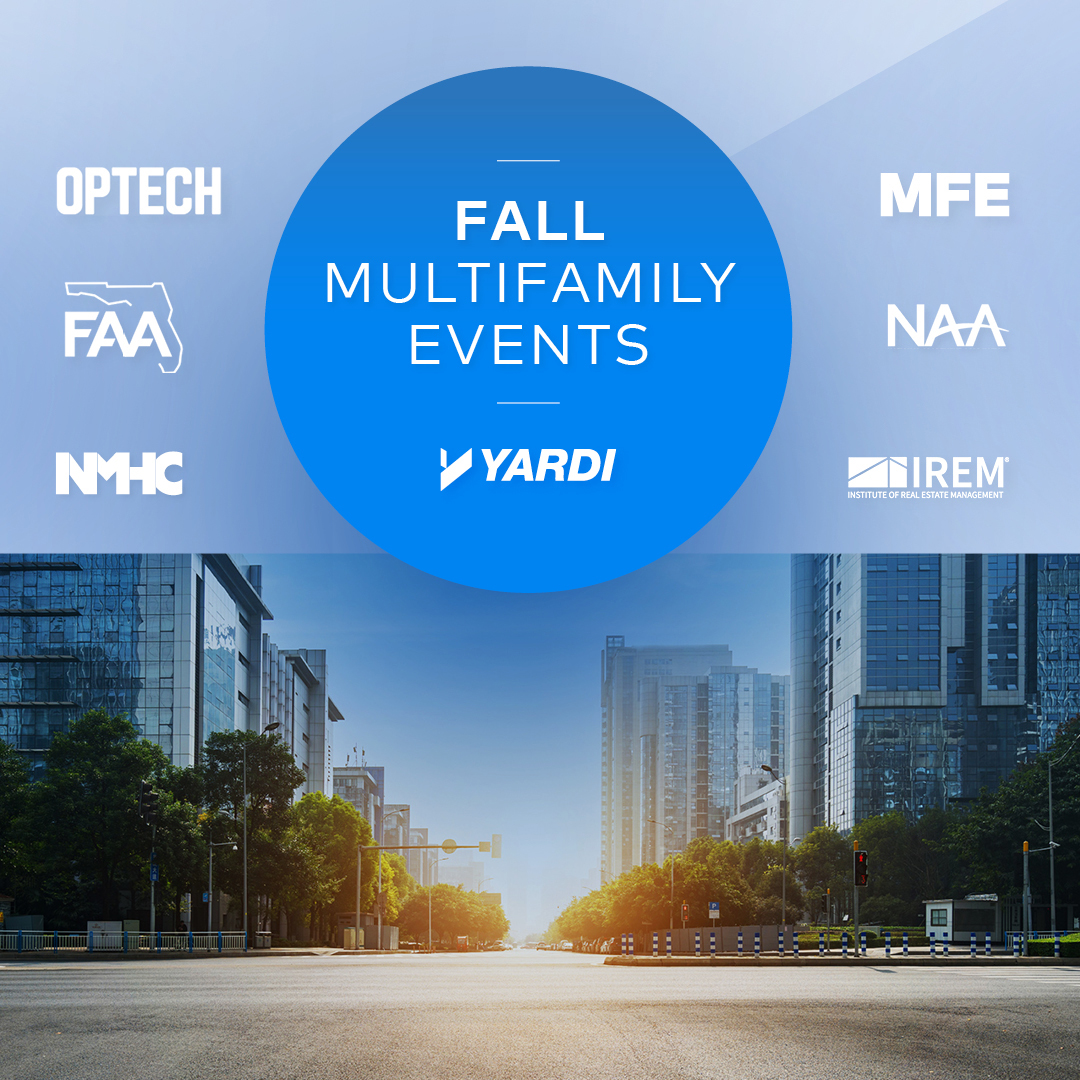 September: Multifamily Executive Conference
Mark your calendars for the Multifamily Executive Conference from Sept. 26-28 in Dallas, Texas. This three-day event is a great way to get insights on how to sustain your organization's success. Learn how to map out your next moves, collaborate with key industry players, advance business strategies and much more.
Yardi is proud to be a Platinum Co-Sponsor for this event. Meet with us at booth 210 to make the most out of your time! We're excited to show you how you can improve your workflows with connected solutions.
September: NAA Cultivate
Join us in an all-new event: Cultivate, Powered by NAA! Set to take place in beautiful Tucson, Arizona, Sept. 27-28, this retreat-style event is tailored to executives looking to deepen their networking and leadership skills. We are proud to be the NAA Strategic Partner and the General Session Sponsor for this event. Book a meeting with us in advance!
With sessions and speakers designed to encourage, motivate and enable reflection, this event is a can't miss for multifamily executives looking to enhance their people management and leadership strategy.
October: IREM Global Summit
This year's IREM Global Summit will be held in Toronto, Canada, Oct. 9-12. As a proud IREM Industry Partner, we can't wait to show you solutions to help you increase your NOI and drive efficiency. Join Yardi Aspire Industry Principal Patty Evans on October 12, where you can learn how to futureproof your workforce with a futuristic elearning strategy.
We're also proud to sponsor the IREM Gala and Afterparty. Join us as we celebrate IREM members and their accomplishments with a cocktail reception, dinner, drinks and awards. And don't forget about the Afterparty, where you can wrap up a spectacular week with a fun dance floor.
We'll be happy to see you at booth 1 and 2, but feel free to book time with us in advance.
October: Florida Apartment Association Conference & Tradeshow
And who could forget about the Florida Apartment Association Annual Conference & Tradeshow happening Oct. 11-13? With numerous speakers and informative sessions to choose from, you can truly customize your time to your learning and networking goals.
Yardi is proud to be a platinum sponsor for this event. Schedule time at booth 701 to connect with our team!
October: NMHC Student Housing Conference
Join us for the NMHC Student Housing Conference in Las Vegas, Nevada, Oct. 17-19. Gather and get inspired with other leaders as you learn and make connections that will shape the future of the industry. Plus, don't miss Yardi Vice President Jeff Adler on the student housing market economic outlook panel.
We are happy to be the Chair Circle Sponsor for this event. See us there at kiosk 3 — or book time with us in advance!
November: NMHC OPTECH Conference & Expo
Who says you can't go to Vegas twice in one year? Also in Las Vegas, Nevada: the NMHC OPTECH Conference and Expo from Nov. 1-3. Join us and other leading voices in multifamily as we touch on the most important conversations around the future of multifamily tech and operations.
We are pleased to sponsor the registration for this event. We'll have more information as the event gets closer, but you can always book a meeting with us ahead of time.
We can't wait to see you in person!
Curious to see where else we'll be throughout the year? Check out our full list of events. If you're interested in learning more about how our connected solutions can help your multifamily company improve NOI across your portfolio, let us know how we can reach you so we can connect.