Argentum 2020
By Nik Edlinger on Sep 16, 2020 in Events
Argentum's largest event of the year is back. And this time, it's virtual.
The Senior Living Executive Conference, originally scheduled for the spring, is now set for September 22-24. Out of consideration for safety, Argentum leadership made the choice back at the start of the pandemic to go virtual, but they're committed to making the experience as valuable and insightful as it's ever been.
"Through the virtual event, we can continue to educate and advance the industry on important matters through a medium more accessible and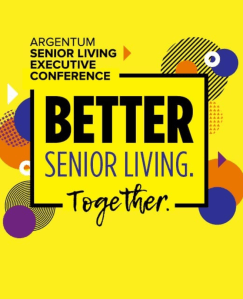 convenient given the extraordinary circumstances we are facing as an industry and as a country," said James Balda in an email announcing the decision. "We can incorporate much of what we are learning as a result of the COVID-19 pandemic, as well as focus on what support the industry needs to get through — and eventually beyond — this crisis."
Argentum is offering 30 hours of programming across the three-day live event. From big general sessions with C-suite panelists to smaller breakouts across multiple tracks, there are plenty of opportunities to come together. Those include sessions with best practices and lessons learned for COVID-19.
Plan on attending? We hope you do. We're sponsoring the registration this year, and we're also hosting a special Zoom Room discussion about business intelligence that you don't want to miss.
Join us for our virtual session
Today's communities require data that combines real-time financial, clinical and marketing intelligence. How can technological advances in BI help? Richard Nix and J.R. Southerland from the Yardi Senior Living team will discuss emerging technologies and how they could impact your community, including your operational processes, resources and residents.
We plan to highlight Yardi Senior IQ, our new BI tool built for senior living. The solution offers hundreds of KPIs across customizable dashboards that make it easier to access and understand all your data, from finance to marketing to care.
The talk, held over Zoom, will be a moderated peer-to-peer discussion, which means you will have the opportunity to chat with other attendees. These discussions won't be recorded due to their open nature, so make sure to attend if you're interested in learning more about business intelligence in senior living.
The session, titled "Uncover Valuable Insights With Business Intelligence," takes place on Wednesday, September 23 at 1:30 p.m. ET. You'll be able to access the call-in instructions after signing in to Argentum's virtual conference environment.
Visit our virtual booth
Prefer a one-on-one conversation with our team? We'll be available the full three days to connect, so swing by our virtual booth if you have questions about Senior IQ or the rest of the Yardi Senior Living Suite. We hope to "see" you there!