Apartment Onsite Teams Day
By Geneva Ives on Jul 30, 2020 in Events, News
We're excited to participate in the first Apartment Onsite Teams Day on August 12, 2020. The day has been designated by the National Apartment Association at the request of industry leaders to recognize onsite property teams throughout the country for their work to keep people safely housed during the COVID-19 crisis.
Celebrate onsite workers
Apartment Onsite Teams Day recognizes the people who have helped guide apartment communities throughout the U.S. through this unprecedented and uniquely challenging event.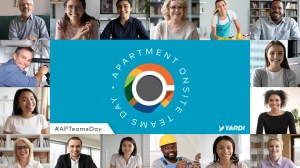 "With the advent of the coronavirus pandemic, our onsite management teams became our first responders. On this special day, we want to take the opportunity to express our gratitude for your leadership, your sacrifice and your care of our residents, our teammates and our clients," said Mike Holmes, president of Easlan Management and NAA chairman. "The fight must continue, but we want to set aside a day to let you know how much you are appreciated. We all stand with you."
Nominate your heroes
NAA has compiled an Apartment Onsite Teams Day toolkit to help property management companies thank their teams on this day in a variety of ways, from social media posts using the #APTeamsDay hashtag to safe, socially distant parties.
Here at Yardi, we're amplifying the celebration by inviting everyone to nominate onsite team members that are making a difference. It's easy to participate. Simply grab a screenshot of the graphic below and fill it out. Or just retype it in your own words. Then post it on Facebook, Twitter, Instagram and/or LinkedIn. You must use the hashtag #APTeamsDay and tag Yardi to enter.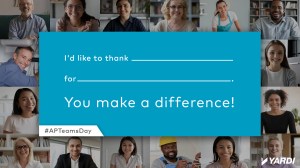 Five winners will be selected at random on Friday, August 14. Winning posts will receive two $25 gift cards. One will be sent to the post creator, and the other will be sent to the person or team they nominated. It's a nice way to do a little something extra for those supporting the many renters spending more time at home this year.
"The apartment industry's onsite team members have been on the frontlines throughout the COVID-19 pandemic, committing themselves to performing the vital work necessary to keep the community together during these trying times," said Esther Bonardi, vice president of marketing at Yardi. "We invite you to join us in promoting the amazing work of our onsite teams."
We encourage you to get creative when showing appreciation for the people in your communities who have gone above and beyond. Add photos or videos and encourage your residents to participate too. We'll be resharing some posts starting now through the end of the contest.
Stay tuned
It is our hope that Apartment Onsite Teams Day continues in the years ahead to applaud the ongoing commitment of onsite teams who work hard to keep residents happy and properties running smoothly.
Don't forget to give a shoutout to your favorite #APTeamsDay heroes for a chance to win! We look forward to highlighting your submissions on our social platforms throughout the week.