Improving Energy Efficiency
By Luis Estrada on Aug 26, 2020 in Energy
Class A commercial buildings get all the fanfare. They have the nicest amenities, the best views and, of course, the highest rent. But let's not overlook the value that class B and C spaces bring to communities and business owners. Often located in suburban areas or lacking glamour that high rises provide, these buildings still possess many advantages and simply don't get the same type of recognition.
A recent ENERGY STAR® report stated that 94% of all U.S. commercial buildings were properties under 50,000 square feet. Because class B and C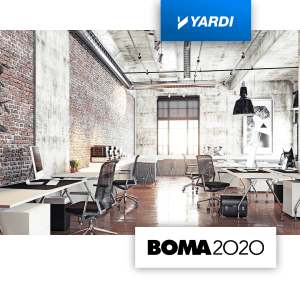 buildings significantly outnumber class A, they can lead the way in contributing to a cleaner environment, improved leasing practices and cost savings techniques.
At the recent 2020 Virtual BOMA Conference, Marta Schantz, senior vice president of Urban Land Institute (ULI), explained three major challenges for class B and C owners in regard to energy efficiency:
Information constraints – Stakeholders are so consumed with day to day operations that energy efficiency gets put on the backburner. Lean on your property manager for data and best practices and educate yourself about building benchmarks to understand what's working or not.
Resource constraints – These buildings don't have the budget or staff size of class As, so they often lack someone specifically assigned to energy projects, or a third party hired to oversee this aspect of the portfolio.
Funding constraints – B and C class buildings typically don't have capital planning funds to invest in larger retrofits with up-front costs. Owners also may not be able to take on long-term debt.
How can a building owner overcome some of these challenges? Primarily, there are financing options available so that B and C owners can reach long term savings goals: cost recovery in terms of lease forms, utility on-bill financing, commercial property assessed clean energy financing (C-PACE), among others. As Schantz explained, an HVAC retrofit alone may not provide the necessary ROI, but bundled with LED installation or sensor installation, it can provide long-term savings with a relatively short-term payback process.
As explained in a 2020 BOMA report, class B and C properties could save 15% on energy costs with basic low- to no-cost initiatives, or even up to 35% with the larger investments detailed above. BOMA's research has found that sustainability initiatives can reduce operating expenses for class B and C buildings between $0.26 and $0.61 per square foot and increase the net operating income for these properties between 2.4% and 5.6% per year.
What are some of the simplest energy solutions to implement? According to Joey Cathcart, associate at the Rocky Mountain Institute, here are some of the best low-cost, quick payback measures for energy savings across property type:
LED lighting: LEDs use significantly less energy and last much longer than incandescent lighting.
Controls/Sensors: Install LED's in high-use areas and controls or sensors in low-use areas like closets and restrooms.
Programmable thermostats: Simply program your temperature setting in times of low or no occupancy.
Energy audits: Establish a baseline and identify where improvements can be made. Local authorities often provide grants for these projects.
Window filming or shading: Reduce demands on HVAC and reduce solar radiation with tinting or shading.
Lease provisions and green leases help increase investor, owner and tenant interest. "They help to overcome split incentives, improve transparency and indicate a commitment to sustainability," Cathcart said. He detailed three low cost components to drive the highest lease impact:
Integrate new building expectations by implementing low or no cost strategies into standard operating procedures.
Integrate language into leasing that includes periodic energy audits. Tenants see this as a commitment to sustainability.
Document operating best practices to optimize performance in common areas and tenant spaces.
"The best time to integrate provisions is either during tenant renewal or at the beginning of a new tenant lease," Cathcart explained.
Eugenia Gregorio, founder and principal at Gregorio Sustainability, presented a case study of The Tower Companies which showed a 25% energy use reduction over 10 years and savings of $17M during that timeframe. How did she do it? By implementing the strategies highlighted in this article, including benchmarking, energy management strategies, lighting and equipment upgrades, green lease guidelines and more.
John Scott, senior executive managing director at Colliers International, explained that businesses have opportunities now that haven't been considered in the past. The pandemic has increased focus on sanitation, cost savings, investment risk factors and other challenges. Now is the time to improve how buildings operate and increase efficiency to come out of the crisis in a better place.