Did COVID-19 Spark
By Joel Nelson on Nov 19, 2020 in Energy
Some industries, such as technology and online media, are doing well amid COVID-19, even as the pandemic cuts a swath through virtually every public health, political, social and economic structure. Other segments of the economy, such as travel and hospitality, face a perilous future.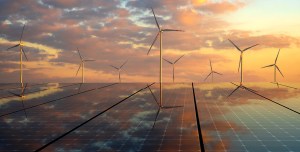 And what about the vital energy sector? Before the pandemic hit, energy demand was projected to grow 12% between 2019 and 2030, as developing nations broadened their power generation capacities. But COVID-19 "has brought the generation of energy from fossil fuels to breaking point," says the World Economic Forum, with global energy demand declining by 5% in 2020. Despite a larger population and world economy, demand in 2050 will be about the same as it is today, according to risk management and quality assurance experts DNV GL, due partly to the effects of COVID-19.
"The scale of the fall in demand, the speed of change, and how widespread it has been have generated a radical shift that seems to be more than a temporary short-term drop in demand for fossil fuels, at least in the power sector," Nelson Mojarro, a World Economic Forum advisor, said in June.
That development has opened the door for renewable energy generation to play an even more prominent role on the world energy scene. Renewables, including solar, whose cost has fallen by 82% over a decade, are the lowest-cost source of new power generation, according to the International Renewable Energy Agency. That trend is expected to hold over the foreseeable future.
And COVID-19, Mojarro says, "has had a game-changing effect in accelerating the clean energy transition in the power sector." Within 10 weeks of the start of widespread lockdowns, according to data compiled by the International Energy Agency, the U.S. increased its renewable energy consumption by nearly 40% and India by 45% while Italy, Germany and Spain set new records for variable renewable energy integration to the grid.
Investors, for their part, are casting a favorable eye on renewables investments thanks to increased fund capital dedicated to renewable energy, pressure from limited partners for renewables investments and tax credits and other governmental policies at the local, state and national levels. With 72% of all new power capability coming from a renewable plant, "renewable energy has become investors' preferred choice for new power plants," the World Economic Forum reports.
But a smooth ride to a sustainable energy future isn't a sure bet. Even though carbon emissions will drop 7% in 2020, returning them to levels of a decade ago, methane emissions will see little or no decrease, leading IEA Executive Director Fatih Birol to caution that "the world is far from doing enough to put them into decisive decline."
Necessary steps for sustaining momentum toward renewables in the post-COVID-9 world, in Mojarro's estimation, include governmental promotion of a higher share of renewables along with innovations in batteries, storage, digital markets, Blockchain and smarter grids.
"Governments, businesses and households have 'kept the lights on' during the pandemic but with cheaper and greener energy. Stimulating investment, conditioning COVID-19 relief to green recovery, innovation and infrastructure opportunities in low-carbon and digital technologies are likely to keep the clean energy curve from flattening," he says.
Find out how Yardi, a two-time ENERGY STAR® Partner of the Year, helps drive energy efficiency in commercial and residential properties.