Beyond Pet Friendly
By Keith Loria on Jan 8, 2016 in News
The American Pet Products Association estimates that approximately 60 percent of all Americans own at least one pet, with nearly 80 million dogs and 96 million cats as part of that lofty figure.
"That's a significant amount of prospective renters," said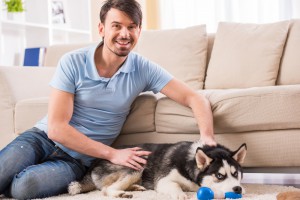 Gina Bertagnolli Slater, regional property manager for Pinnacle, Las Vegas. "For our pet owners their furry friends are family. Our ability to provide an extraordinary experience for the entire family is paramount in fulfilling our mission of consistently exceeding our customers' expectations—and that includes their pets."
The rental housing market adapted to the fact that people consider their pets as family members, and property owners are focusing more and more each year on pet-friendly amenities and services to attract and retain residents with pets. It's a view shared by many in the multifamily business today, with developers doing all they can to attract people (especially Millennials) with pets, and companies adding a host of pet-friendly services and amenities to their communities.
Features like pet parks, pet spas, pet concierge services, and even pet welcome gifts are becoming more common for people moving into apartments. Plus, with the number of Millennials moving into urban cores where there are fewer opportunities to care for a pet, it makes it even more vital to cater to the pet lover.
"In most growing and developed urban markets around the United States, pets, specifically dogs, are the children of condominium and multifamily building residents," said Scott Leventhal, president & CEO of The Trillist Companies. "Failing to cater to the needs of the full extension of someone's family provides a shortfall in services. That is why we see the importance to provide those services to our residents."
That's why the Trillist Companies installed Pet Respite into its buildings, which provides pet grooming facilities that call to mind mini-spas for four-legged friends. Some even include indoor pet relief areas. Lisa Newton, Hines' vice president of multifamily, said trends show people continue to spend a significant amount of time and money on their fur-babies and savvy pet owners will seek out apartment communities that provide the amenities needed to cater to their pets. "At a minimum, we are seeing pet waste stations, outdoor dog runs and indoor washing facilities," she said. "However, pet spas/grooming services, doggie day cares, rooftop dog parks, and personalized walking services are becoming more popular—especially in urban areas where there may be limited amounts of grassy areas."
Kevin Sheehan, senior managing director of real estate for Greystar, Charleston, S.C., said many of the Greystar communities host pet-friendly events such as "Yappy Hours," pet costume contests, and other get-togethers to encourage responsible pet adoption from area shelters. "Some communities sponsor pet training seminars, and coordinate dog walking services as well as bringing in mobile pet groomers that visit the community on a regular basis," he said. "Owners are taking advantage of underutilized areas within the community to create dog parks and pet washing stations to help attract this renter demographic."
Stephen Santola, executive vice president and general counsel for Woodmont Properties, noted that about 10 years ago, a number of high-end luxury rental communities were not allowing pets. "Since the entire Woodmont executive team is filled with dog owners, we were surprised at this 'pet discrimination,'" he said. So the company has added amenities designed to make pet care easy and fun. Now, dog runs and "pooper scooper stations" are included in every Woodmont community.
Additionally, indoor pet washing stations have been added to each over the last year.
"Dog owners have a safe, clean and free place to wash their dog, thus saving them time and frustration of an outdoor hose or money with a professional pet groomer," Santola said. "As apartment owners, we prefer clean pets in our apartments, so making a quick shampoo easy on our residents means more clean and happy dogs in our communities. It also helps prevent residents from using our bathroom sinks or tubs for pet shampoos."
Something different
Thinking outside the box is often a way to attract pet owners. At Avana Alexandria, for instance, Greystar recently added a dog park with an agility course that has been a huge hit with its residents.
The Aphora at Marina San Pablo in Jacksonville, Fla., has a designated pet elevator to better accommodate those with pets, as well as a pet spa and grooming station. The Oaks of Vernon Hills, Northbrook, Ill., is a 304-unit rental community that has a dog park and hosts monthly "Yappy Hours," held the first Saturday of each month. "We know that pet amenities are an important consideration for renters in a lifestyle community like The Oaks," said Matt Nix, principal of REVA Development Partners, developer of The Oaks. "We wanted to go beyond just allotting space for a dog park and provide a place for our residents, both two-legged and four-legged, to get out and get to know their neighbors."
Darren Pierce, director of asset management for Crescent Communities, noted creative programming and events that cater to pets and innovative, integrated spaces are some ways to stand out to pet lovers. For example, one of its communities in Atlanta has an artistic water feature where dogs can play, and it's bordered by tables with WiFi so owners can watch their pets and get work done.
Over the last few years, Camden, Houston, Texas, invested in creating outdoor spaces that pet-loving residents can use, including gated pet parks where dogs can be off-leash. Some properties include agility equipment and washing stations.
In development
Next summer, YOO on the Park in Atlanta, rising above midtown Atlanta's Piedmont Park, will open and include indoor pet facilities as well as dog grooming and a pet spa.
The Ritz-Carlton Residences, Miami Beach, slated for delivery in 2016, will house an elite pet spa suite, where residents can bring their pets for grooming and bathing at self-serve stations or arrange for a specialized grooming service or dog-walking appointment with an experienced professional.
Coming in 2018, Paramount's 60-story Miami Worldcenter will include an expansive six-acre upper deck, spanning 120 feet above downtown Miami and will include a designated dog park and a 0.5 km jogging path that will allow residents to take an invigorating run with their pet without leaving the confinements of their home.
An increased amount of pet amenity offerings are also providing an opportunity for residents to mix and mingle, as many who are pet owners have forged new friendships in dog parks or at the pet events.
"As a way to further enhance the resident experience, we are leveraging technology to foster the pet owner community within the communities that we manage," Sheehan said. "We are able to establish pet-walking and play groups at our properties that provide a way for our residents with pets (and their four-legged companions) to interact and get to know each other." In today's world, pet amenities aren't just a luxury, they're expected.