Bettering Buckhead
By Erica Rascón on Mar 4, 2015 in News
It's never too late to improve livability. Buckhead, an affluent and well-developed Atlanta submarket, demonstrates that notable change can be made even in established areas. Green space and cultural engagement are key to the transitioning community's success.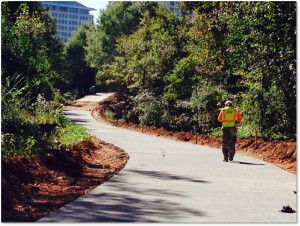 Markets experiencing the strongest, most sustainable growth these days are those where residents can work, live, and play in pedestrian-friendly communities. Ownership of a single-family home, an automobile, and long commutes from the suburbs don't rank high on Millennials' lists. Instead, they trend towards pedestrian neighborhoods with alternative transportation, active street scenes, and an emphasis on environmental stewardship.
Buckhead fell woefully short in many of these areas. The submarket gained a reputation throughout metro Atlanta for its sprawling estates and commercial success but it was decidedly unapproachable and in many potential residents' eyes, unlivable. Without major changes, Buckhead would sabotage its own growth and vitality.
One spark initiated the necessary changes. In 2011, Denise Starling received a daunting task. The Executive Director at Livable Buckhead found herself facing a green space deficit and a demand for change.
"Howard Shook is our councilman and he came to us and said 'City of Atlanta just did this plan that identified my district as the lowest parked in the entire city of Atlanta. That can't be. Go fix it!' He literally said, 'Go fix it!'" Starling laughs. "We're like…alright. So that's basically how we started a green space plan."
The councilman was right. At the time, the Community Improvement District, Buckhead's commercial center, had only 2.14 acres of green space per thousand people. The standard is 15 acres. Establishing parks became the organization's primary objective.
Walkability was also a sought-after feature that Buckhead lacked. At the time, WalkScore dubbed the area as "car dependent," entailing that most residents had to run errands by car rather than on foot or by bike.
Livable Buckhead could address both problems at once through the creation of PATH400, a mixed-use commuter and recreational trail. Parks would accentuate the trail, providing a place for residents to socialize, exercise, and get to the commercial core from residential areas without the use of a car.
With increased community approval and the collaboration of 14 additional organizations, PATH400 and its supplementary parks have begun to take shape. Upon the projects' completion, they will provide Buckhead with 5 miles of mixed-use trails and more than 20 acres of green space.
To date, Buckhead Forrest and Buckhead Village neighborhoods have received Very Walkable ratings from WalkScore. PATH400 and its additional parks will undoubtedly improve the district's overall walkability rating.
Better Buildings Challenge
In addition to new green spaces, Livable Buckhead is also making strides towards green living by uniting local businesses under an umbrella of green building, sustainable operations, recycling and alternative energies.
"Millennials are about environmental consciousness. The Better Buildings Challenge is the city's challenge where the commercial buildings reduce their energy consumption. We brought 43 buildings into that," says Starling.
That's a remarkable feat. Buckhead's commercial buildings are notably newer and, in many cases, already more efficient than others in Atlanta.
"We're working with office buildings to focus on recycling. We're increasing the diversion rates for the different buildings," explains Starling. "It's about participating together as a community. It's great if one building is doing something but if we're doing it as a community and we promote the community with that message, it's a more powerful message."
Starling believes that Better Building Challenge certifications, recycling programs, and more EV charging stations (in addition to the 24 already present in the corridor) will make the district more appealing to prospective businesses. "When they're considering Atlanta, one of the things on business' checkbox is a green community, somewhere that reflects the company's interest in that. We need to be able to say that we have those things here."
Culture & Heritage
Though improved, Buckhead's livability is still incomplete. The submarket still lacks cultural engagement. In the near future, Livable Buckhead will spearhead a sweeping initiative for public artwork, particularly along Peachtree St., one of the most notable thoroughfares.
"Cultural and heritage tourism are the fastest growing sectors. We need to expand our arts scene in general to be more of an attraction citywide," says Starling. "We want to activate the streets and put soul back into the community."
In addition to public art, cultural and heritage tourism requires a historical component. That's where the Buckhead Heritage Society steps in. Together with Livable Buckhead and other local organizations, the Buckhead Heritage Society aspires to improve access to the submarket's rich and varied history.
"Without our historic resources we can't understand the evolution of the community, where we've been in the past. We can't plan a smart path for growth in the future," says Erica Danylchak, Executive Director at Buckhead Heritage Society.
The organization aims to make Buckhead's wealth of history readily available for residents and visitors in a way that's interactive and fun. "We've gone through a very deliberate process over the last 15 months of bringing committee members together from our various park spaces and nonprofit groups here in Buckhead to go through a planning process to see what stories we want to bring to the forefront, how we want to showcase those stories," says Danylchak.
Buckhead Heritage Society wanted to avoid traditional historic markers, so they brought together a team of designers to create new and unique concepts. The leading ideas can be found on the organization's website.
One of the most popular concepts allows users to photo bomb the historic Buckhead Theater. A display will superimpose a historic image of the site over the present day reality. Visitors can then insert themselves into the image. There will be signage that gives information about the site but it won't be text intensive. It will give basic information and direct users to the website for more details. The concept is user-friendly, hip, and attention grabbing.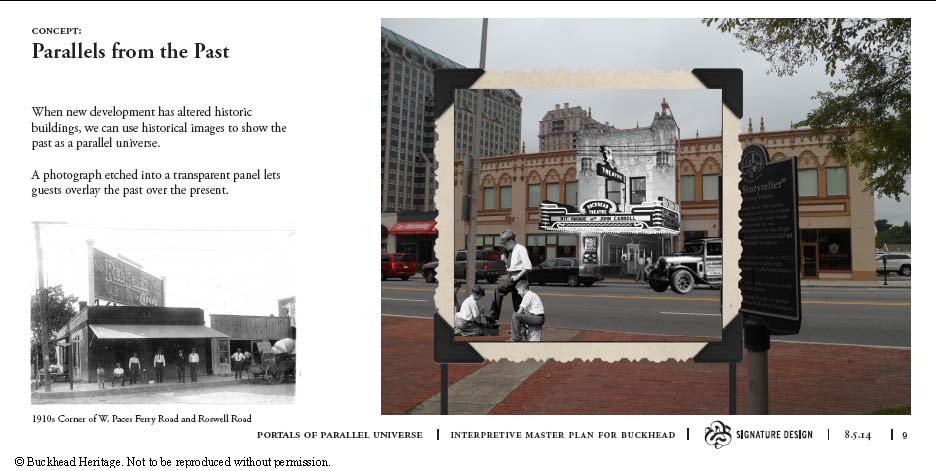 Buckhead Heritage Society is also interested in highlighting history for those who wouldn't consider themselves to be history buffs. By shining a light on "unsavory stories,"–such as Roswell Road's history as a moonshine trafficking route and secret caves nearby where the moonshine was hidden and distributed– Danylchak hopes to make historians out of everyday people.
"It's been a lengthy process but one that has been a fabulous one, if I do say so myself, because we're able to get community input and get people really interested in being a part of it," Danylchak says. "Now we're finishing our implementation plan and putting together our fundraising strategy for that."
By combining green programing and cultural engagement, Buckhead has embarked on a journey that has transformed a concrete jungle with very little community spirit into one of the hippest and most sought-after submarkets in the region. It's a model that has the potential to metamorphose existing markets throughout the nation.