Animated Apertures
By Erica Rascón on Jun 12, 2013 in News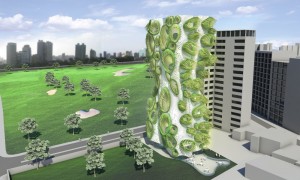 Green design features are here to stay. And as they become more ubiquitous in the multifamily development landscape, expectations for innovation just keep on growing.  A team of Los Angeles architects is among those encouraging drastic changes to apartment buildings, and they've focused their efforts on windows.
B+U Architects initiated the Animated Apertures Housing Tower in Lima, Peru to depict technology and nature working together in multifamily housing. Instead of adhering to the norm of traditional American architecture, the team opted to design a rental community that champions incongruence, asymmetry, and organic curves.
B+U substituted the rigid angles and smooth planes of traditional buildings with rounded edges and textured surfaces. While the building itself is undoubtedly eye-catching, the windows are the architects' pride and joy. Designers aimed to break down a window into its most basic component, a transition between the interior and exterior of a building. B+U then created a space that blends the characteristics of a window, balcony, and plaza into one: the fiberglass apertures provide residents with a clear view to the outside while bathing the housing units in natural light. These pod-shaped openings also serve as inhabitable spaces that blur the divide between indoors and outside.
Read more of this story on Green Apartment Design at multihousingnews.com