A Helping Hand
By Cutright Elizabeth on Nov 11, 2015 in News
It's that time of year again! Every November s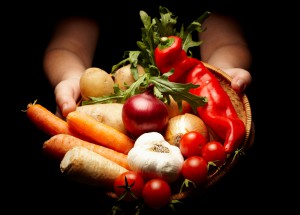 ince 2009, Yardi has proudly participated in the Santa Barbara Foodbank's annual Corporate Food & Funds Drive Challenge. By promoting friendly competition among local business, the corporate challenge is a chance to give back and support those in need during this holiday season and beyond.
Every day, thousands of people turn to the Santa Barbara Foodbank for assistance. With a commitment to supplying nutritious foods that promote a healthy lifestyle, the Santa Barbara food bank helps one in four local residents keep their larders full and their tables set not just during the holidays, but throughout the year. Though the Foodbank receives a steady flow of donations year-round, events like the Corporate Food & Funds Drive Challenge guarantees the organization receives sufficient funds and resources to operate regardless of the season.
Yardi has participated in the Corporate Food & Funds Drive Challenge from the beginning, and being part of this annual competition aligns with the company's overall philosophy of giving back to the community. As part of the competition, over the next two months Yardi employees will work hard donating food, funds and volunteer hours in a bid to earn points that will be tallied against the efforts of the other challenge participants. Once the contest is completed, the Foodbank will use an employee-to-point ratio to crown the winner.
Last year, the challenge collectively brought in over 24,000 pounds of food (including 266 turkeys), over 400 hours of service, and more than $47,000 in donations! Though Brown and Brown Insurance may have nabbed the title in the past, this time around, the Yardi team is ready to snag that top spot.
"The competitive spirit is alive and well," says event organizer Kelly Johnson, "and I think we're all hoping to surpass last year's efforts!"
For over 30 years, the Foodbank has provided millions of pounds of nutritious food along with education and other resources through its own programs and cooperative efforts with a network of almost 300 non-profit agencies in Santa Barbara Country.
With 25% of Santa Barbarians turning to the food bank for sustenance, it's clear many neighbors, friends and family depend on this crucial service.
As we celebrate with our loved ones this holiday season, it's important to remember that we have the ability to assist those who are struggling with life's challenges in ways large and small. In addition to the Corporate Food & Funds Drive Challenge, there are many opportunities to support the Foodbank, including individual Food & Funds Drives, donating non-perishable food and participating in a virtual food drive online. To learn more, please visit www.foodbanksbc.org/holidayfooddrive.html
About the Foodbank of Santa Barbara County
The Foodbank of Santa Barbara County is transforming health by eliminating hunger and food insecurity through good nutrition and food literacy.
The Foodbank provides nourishment and education through its award-winning programs and a network of over 300 member non-profit partners.
In Santa Barbara County, one in four people receive food aid from the Foodbank; over 146,000 unduplicated people of whom 35% are children. Last year, the Foodbank distributed 9.7 million pounds of food (over 4 million pounds was fresh produce).
For more information, visit www.foodbanksbc.org