1,000 Clients Strong
By Joel Nelson on Jun 4, 2014 in News
Foundation for full-business real estate management platform features complete mobile capability and portfolio-wide business intelligence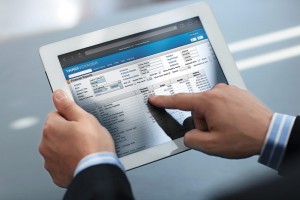 SANTA BARBARA, Calif. (June 4, 2014) – In less than a year, more than 1,000 companies have adopted Yardi Voyager® 7S, the latest and most advanced version of Yardi's property management and accounting software. Yardi Voyager 7S works with all Internet browsers and is tablet compatible. Yardi Voyager 7S is fully integrated with many popular Yardi modules, including:
Yardi Procure to Pay™
Yardi Orion™ Business Intelligence
Yardi LeasingPad CRM™ and Yardi Commercial Leasing Pad™
RENTCafé™ and COMMERCIALCafé™
"The response to Voyager 7S and its companion modules has been very positive because they offer unprecedented functionality in a comprehensive and fully integrated suite of products," said Terri Dowen, senior vice president of sales for Yardi.
For most clients, the transition to Yardi Voyager 7S requires only a few days of training for their staff. "We have really enjoyed the increased efficiency we have experienced with Voyager 7S, including specific hotkey capabilities and auto-fill features," said Rebecca Hill, chief financial officer for commercial and residential real estate developer Briarcliff Development Co. "The upgrade of our database to 7S was a seamless, literally overnight process."
"The navigation features are very efficient, so we instantly get property and resident information without going through a dozen steps. We also like the efficiency of customizable screens that restrict access to display types to users who need them," said Larry Busgeon, controller for multifamily property manager Landmark Realty. "The system's mobile capability and full integration with products such as RentCafe and Yardi Maintenance™ enhance both our resident service and staff efficiency. Residents can make payments online, including recurring ones, and our maintenance staff can manage work orders in the field without returning to the office."
"Landmark and Briarcliff are just two examples of clients that are enjoying the new technology and feature enhancements, and the complete visibility that a centralized database can provide," said Dowen. "We will continue to offer Voyager 7S to all new clients and work with existing clients who have yet to upgrade."
Check out the video about the features and benefits of Yardi Voyager 7S below:
About Briarcliff Development Co.
Briarcliff Development Co., based in Kansas City, Mo., has developed more than 1,200 households including subdivisions, condominiums, apartment complexes and villa homes. The company has built more than 500,000 square feet of office space, with an equal amount planned. Its master plan also includes a hotel, a retirement center, and Briarcliff Village, a mixed-use retail center.  For more information, visit www.briarcliffkc.com.
About Landmark Realty
San Francisco-based Landmark Realty was established in 1973. It manages more than 45 buildings throughout the Bay Area, ten in Albuquerque and two condominiums on the Hawaiian island of Maui.  For more information, visit www.landmarksf.com.
About Yardi
Now in its fourth decade, Yardi® is committed to the design, development and support of software for real estate investment management and property management. With the Yardi Commercial Suite™, Yardi Multifamily Suite™, Yardi Investment Suite™ and Yardi Orion™ Business Intelligence, the Yardi Voyager® platform is a complete real estate management solution. It includes operations, accounting and ancillary processes and services with portfolio-wide business intelligence and platform-wide mobility. Yardi is based in Santa Barbara, Calif., and serves clients worldwide from offices in North America, Asia, Australia, Europe and the Middle East.  For more information, visit www.yardi.com