Utilizing Market Data
By Erica Rascón on Mar 28, 2020 in Events, Matrix
Multifamily property performance has been stellar throughout most of the country. There are, however, distinct regional differences in fundamental measures. Savvy investors examine macro and micro economic trends before making investment decisions. Focus areas include rent growth, occupancy trends, supply growth and transaction activity. By understanding those multifamily trends, property managers can optimize property performance and occupancy to satisfy investors.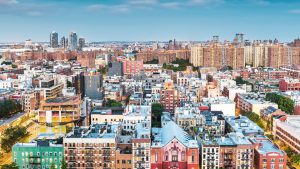 The IMN Property Manager & Operations Forum – Southwest dove into the nuances of real estate data and how it impacts investors' decisions. On the panel, "Multifamily Investment Trends & Their Impact on Property Managers," industry experts identified best practices that can help property managers navigate data to their benefit.
Chris Nebenzahl, director of institutional research, Yardi Matrix, was one of the experts on the panel. He explored the benefits of monthly national and metro trends reports, such as the reports Yardi Matrix provides for multifamily. Robust reporting provides insights into the industry that can help property managers make informed decisions.
Definitely mess with Texas
Texas markets, especially the Dallas-Fort Worth metroplex, are very strong places to invest. Supported by job growth and ample land, these markets are ripe with potential. There is a lot of capital in play throughout the state, even in smaller markets. The rise of popularity has made finding deals increasingly difficult.
"The value-add trade is far less lucrative and easy to find than it was earlier in the cycle," says Nebenzahl. "Yields are compressing making the value add harder to accomplish."
He adds that since valuations are high, the next decade will be focused on operational efficiencies, "Hold periods will likely extend out, and high equity multiples will be less likely. As a result, cash flow, managing expenses and driving revenue as much as possible will be essential for property managers."
Rent control gains momentum
Driving revenue is a hot discussion nationwide. The demand for affordable housing is at an all-time high, yet suppliers struggle to secure development returns. The high cost of construction and labor materials makes market rate properties a more viable option when seeking noteworthy returns.
The high returns on market rate properties are satisfying, but they may be short-lived. The lack of low-income housing combined with rising rents on market rate housing has prompted the populace to call for rent controls. Such regulations are taking hold throughout the nation. Is Texas next on the list?
"It's premature to think that Texas will implement rent controls in the immediate future," observes Nebenzahl. "Though not yet impacting all of Texas, there are measures in Austin and some smaller municipalities being discussed that would increase regulations on landlords and make it more challenging to drive revenue or remove tenants."
"In most other markets, rent control laws permit growth of 5-10% per year. These regulations leave plenty of room for property managers to pursue decent rent growth. But there is still concern that more stringent measures will follow," says Nebenzahl. "It is out of property managers' hands, but asset managers will want to keep an eye on this."
Income growth or capital preservation?
Investors may be wise to funnel capital towards the fastest-growing markets such as Dallas-Fort Worth. Yet as supply grows, rents are slowing in some of the hottest metros. With cooling rents and the potential for rent controls, such markets have disadvantages.
If you are a property manager is a region with slower growth, this may appeal to investors as well. Regions with slower growth also have their advantages. For example, the Northeast markets have had weaker rent growth, but higher occupancy rates pave the way for a smoother transition as the economy slows in coming years.
Investors must choose between income growth and capital preservation, or some combination of the two.
Market data at your fingertips
Property managers must stay on the breaking edge of market trends in order to compete in their local markets. With the insights of accurate and localized data, property managers can increase occupancy and revenue to satisfy investors. Market intelligence tools like Yardi Matrix provide the data needed to empower decision making.