Supply Forecast
By Leah Etling on Nov 10, 2023 in Matrix
Multifamily construction starts increased slightly in Q3 2023, and should have a positive impact on future deliveries, states the latest Multifamily Supply Forecast from Yardi Matrix.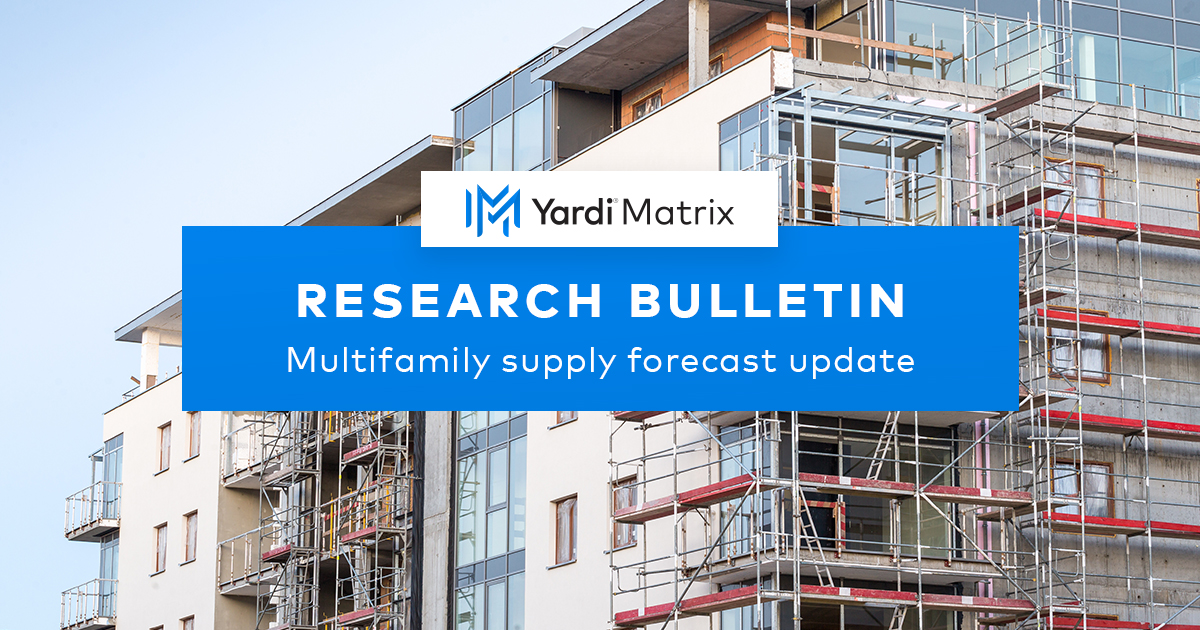 Construction starts remained relatively robust in the first half of 2023, and the under-construction pipeline increased 7.6 percent in the third quarter. As a result, the Q4 2023 supply forecast update has increased forecast completions 5.8 percent for 2024 and 6.2 percent for 2025.
For multifamily markets tracked by Yardi Matrix, there are currently 1,223,601 units in the under-construction pipeline. Of these units, 479,634 are currently in lease-up, roughly in line with the trailing six-month average of 483,000 units but some 15.9 percent above year-ago levels. Most of these units will be completed this year or in the first half of 2024.
Multifamily construction starts held at a relatively high level through the first half of 2023. As a result, the number of under-construction units not in lease-up continues to increase. Currently there are 743,967 units, a 16.2 percent quarterly increase and a 35.3 percent increase over year-ago levels. These units will most likely be completed in 2024 or 2025.
Find more insights on forthcoming multifamily supply from Yardi Matrix.
Yardi Matrix offers the industry's most comprehensive market intelligence tool for investment professionals, equity investors, lenders and property managers who underwrite and manage investments in commercial real estate. Yardi Matrix covers multifamily, student housing, vacant land, industrial, office, retail and self storage property types. Email [email protected], call 480-663-1149 or visit yardimatrix.com to learn more.