Student Housing Earns High Marks
By Leah Etling on Oct 24, 2022 in Matrix
The Yardi Matrix team continues to be bullish on the student housing sector following another stellar quarter of performance in Q3 2022.
Jeff Adler, vice president of Yardi Matrix, delivered a glowing report card for student housing during a webinar last week. You can listen to the full recording here.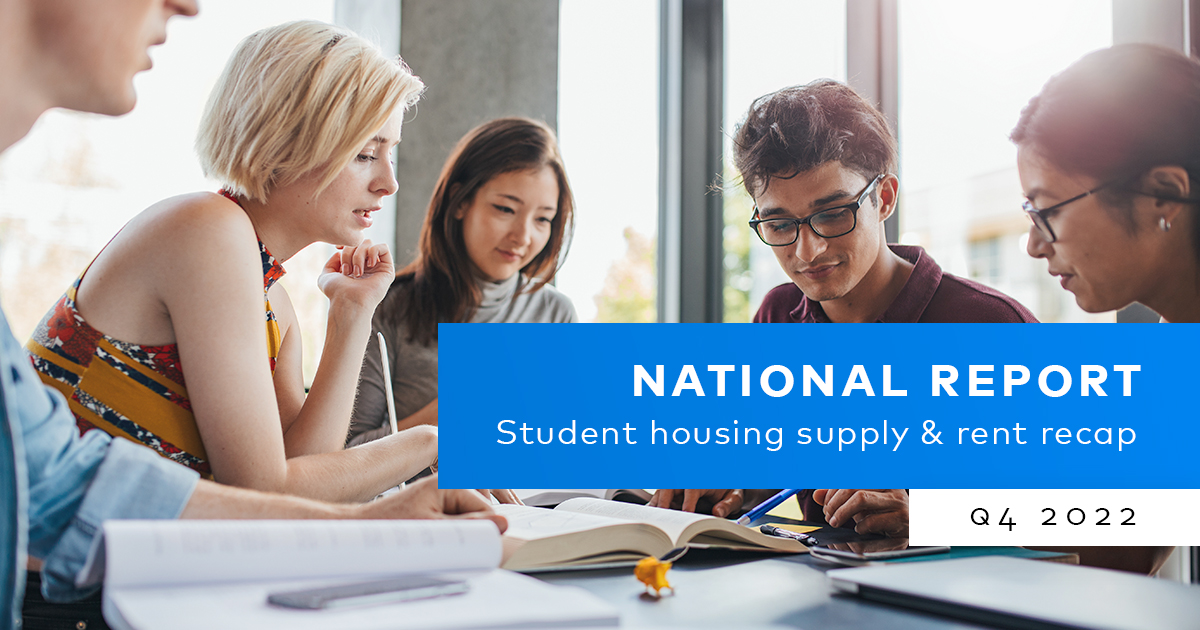 "The sector is a great place to be over the next several years," Adler said. "If you look across the entire landscape of asset types, student housing is extremely well positioned with exceptional offensive characteristics, as well as this gap between multifamily and student housing rents."
The gap means that there is a meaningful opportunity for additional student housing rent growth, particularly in urban markets, Adler explained. Multifamily rents jumped during the pandemic recovery, while student housing rent increases have not been as steep.
According to the latest National Student Housing report: "The impact of multifamily rent trends on student housing will be stronger in university areas with a prominent shadow market, given the availability of options within a close radius."
Key highlights from Q3 performance include:
Record-preleasing in advance of the 2022/23 school year, at 96.6 percent which was 2.3 percent higher than last year
Per-bedroom rents are 4.1 percent higher than a year ago, averaging $789 as of Sept. 2022
Top tier universities received a surge in applicant interest and enrollment; however, less selective schools are struggling and there is an overall decrease in total students enrolled
Deliveries of new student housing properties surged in 2022
These data points and many more are found in the new quarterly National Student Housing Report.
The pace of preleasing was faster for selective universities with higher enrollment. But positive performance was widespread among university types across the country. Twelve universities had double-digit growth in pre-leasing levels in September compared to 2021, with Washington State University (18.9 percent growth) and the University of Houston (16.4 percent) topping the list.
At some popular schools with growing enrollments, available student housing supply hasn't been sufficient to house the incoming class. A problem that used to be unique to California schools has now become more widespread.
Elevated investment activity continues despite rising interest rates, and the new-supply pipeline is robust. Nearly 45,000 new student housing bedrooms were delivered in 2022, accounting for 5.3 percent of Yardi Matrix-tracked housing stock.
Matrix tracks 1.17 million off-campus student housing bedrooms at 2,065 properties across the U.S.