Student Housing
By Leah Etling on Apr 14, 2022 in Matrix
Despite a widely reported drop in college enrollment over the last two years, the student housing industry continues to perform well and is back on track with healthy rent growth and preleasing for Fall 2022.
Those were a few of the topline conclusions of a webinar focused on student housing, presented April 13 by Yardi Matrix vice president Jeff Adler. Miss the session? You can view the recording and presentation materials.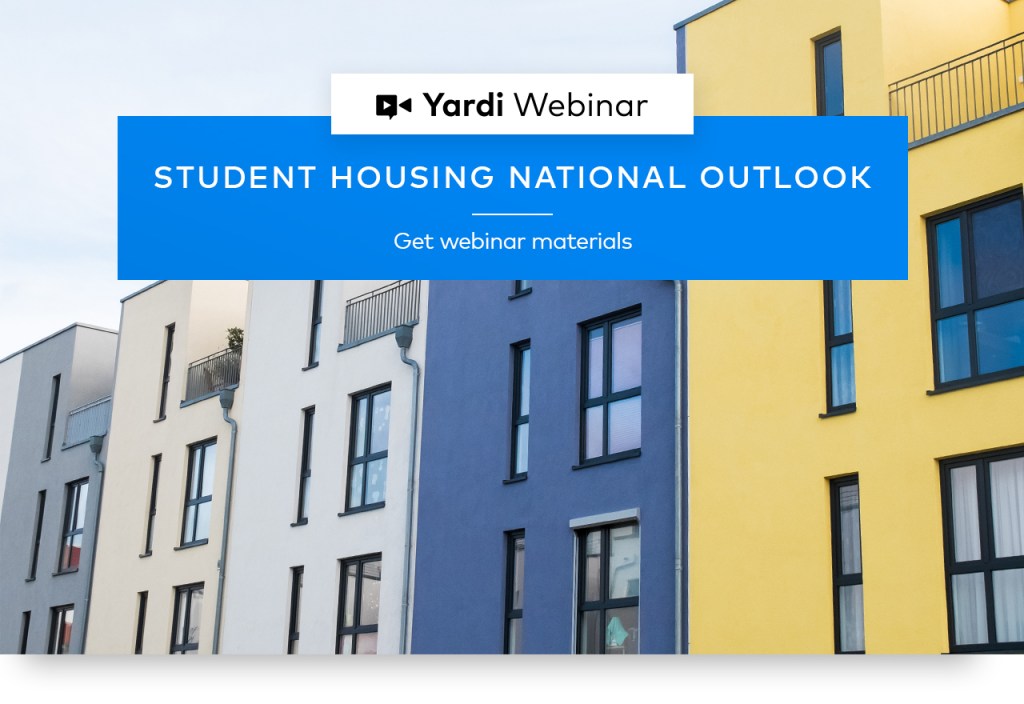 Overall, up to one million students who were expected to attend college in the U.S. are now missing from enrollment rolls. That's a significant reduction that will have myriad impacts, from college finances to housing to career prospects.
"If you look at the straight from high school to college enrollment, we thought we would see a gap year (in 2020-2021), but it turns out the gap year was an off-ramp," said Adler.
That off-ramp has been detrimental to lower-tier four-year colleges and community colleges. But within the Yardi 200, comprised of the top 200 investment grade universities across all major collegiate conferences, enrollment is up and is expected to continue to be up at a modest rate over the next several years. That's due to consolidation of enrollment, Adler explained.
"If there are fewer (students) available, and you want to get into a school that has a higher reputation, then the name brand schools are the ones that are the winners," he said. That largely includes the 42 private and 158 public schools that comprise the Yardi 200.
As of March, preleasing for next fall was recorded at 63.7 percent across Yardi 200 schools. That's 13.5 percent higher than the same time last year and 9.9 percent higher than March 2019, before the pandemic.
The average rent per bedroom is $777 for Fall 2022, an increase of nearly three percent over 2021.
"As we expected, preleasing and rent growth are highest for bigger, more selective universities," said Adler. Those include schools like UC Santa Barbara, Portland State University, the University of Pittsburgh and Boise State University, which have all seen jumps of more than 30 percent in annual preleasing.
The ongoing performance of the sector has prompted increased investor interest.
"Transaction volume soared in 2021 as investors recognized the resilience of the student housing industry," said Adler. The bulk of that investment was focused in the Southern and Western U.S.
Development has also continued at a healthy rate, with some slowdown due to supply chain issues and adaptation to current trends. One past staple of student housing that's now less than popular is four-bedroom, two-bathroom suites. Owners and managers are seeing the highest demand for studios and smaller units, along with commensurate rent increases.
"You are seeing a shakeout of a desire for more privacy (due to the pandemic)," said Adler. "I think the desire for more privacy and the ability to be more efficient with (a student's) time is a trend that is going to stick around." It's also prompting larger kitchens in new units and an expectation that the dining hall experience won't be a preferred choice in the future.
Along with forecasts for the anticipated rent growth, enrollment, occupancy and supply trends of the Yardi 200, the webinar spent time looking at the long-term value proposition for higher education and how it might become a marketing pitch going forward.
"Our analysis has always assumed that there is no question about the value proposition of a higher education," Adler noted. "But as college gets more expensive and students take on more debt, the question of the value proposition has been somewhat unexamined."
Hear more about the careers that result in the greatest return on investment after attending college, student debt and higher education value in the webinar recording.
Yardi Matrix will offer its next market insight webinar on the multifamily industry on May 12. If you want to be up to date on the most current economic, demographic and real estate trends, don't miss out. You can register here.