Bumpy Roads Ahead
By Leah Etling on May 12, 2022 in Matrix
As the stock market rocks and rolls, inflation becomes a fact of life and many Americans continue to relocate, what's in store for the multifamily industry?
Answering that big question was the goal of a recent Yardi Matrix webinar presented by Jeff Adler, vice president of Matrix, who presented fundamentals, economic indicators, geographic trends and much more.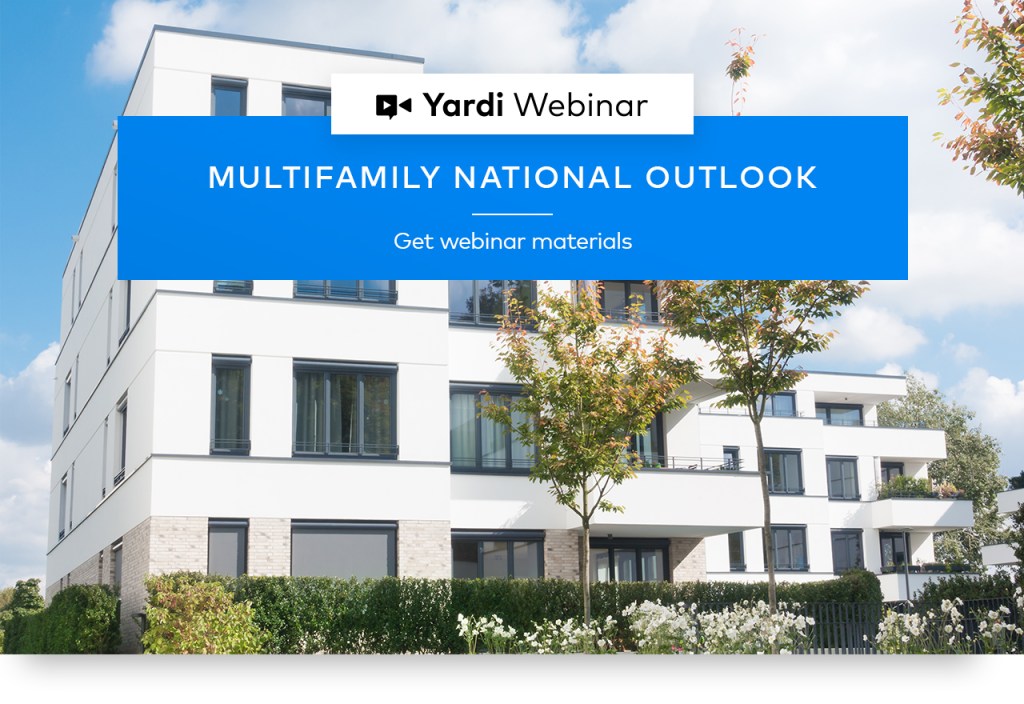 If you missed the presentation, you can view the recording and slide materials.
Additional multifamily insights are available in the latest Yardi® Matrix Multifamily Report, which reported this week that the average U.S. asking rents rose $15 in April to an all-time record $1,659.
Multifamily asking rent growth measured a record 14 percent increase in 2021. However, that performance is expected to moderate during the remainder of 2022, due to multiple factors.
"I do expect the economy to continue to grow – at a slower rate. I do expect multifamily to continue to grow – at a slower rate. Bottom line, it is going to be bumpy," Adler said. On the plus side, multifamily fundamentals are strong, and the sector should remain resilient during the next year and beyond.
Beyond external factors like inflation, rising interest rates and economic volatility, there are many trends impacting housing that investors and multifamily professionals should make note of.
They include:
Ongoing population migration: "The hybridization of the work force and the ability to work from anywhere has enabled a spreading of the population," said Adler. That has been beneficial for secondary and tertiary markets over gateway markets. Find out which ones in the presentation materials
Lease renewals: While multifamily asking rents have jumped 20-25 percent over the last year in most markets, lease renewals are more likely to ask for about 10 percent more per month, Adler stated. That means many renters are like to weigh their options and stay put in current units, increasing occupancy levels.
The remaking of American office: Matrix estimates that whereas less than 10 percent of the office workforce was able to work remotely, post-pandemic that figure will be around 25 percent. That means a vast number of workers can leave office-proximate homes if they wish and fuels the performance of smaller markets. "We see this reshaping the population, and I don't think we're done yet," Adler noted.
Lousy consumer sentiment: If you haven't noticed this one, you haven't been paying attention. "Because inflation affects everybody, and in some cities it is much worse, this is a driver of consumer sentiment going down and reallocation of spending," Adler said. The only bright spot for multifamily is that everyone needs housing, and spending on rent is typically prioritized over other consumer needs.
Geographically, tech hubs continue to outperform other markets, but major cities have also rebounded over the last six months.
"We always thought tech hub markets would do well, and gateway markets would recover. The only one that has not is downtown San Francisco, but it is on pace to recover," noted Alder. Manhattan, Seattle and Minneapolis have already made strides towards previous performance.
Gain even greater insights on the multifamily sector by viewing the full webinar recording, and check the latest Matrix multifamily bulletin on transactional trends for investment insight.