Winning Websites
By Geneva Ives on Feb 24, 2016 in Marketing
Curb appeal. It's a real estate term that almost everyone is familiar with. It refers to how attractive y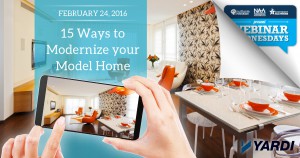 our property looks to potential renters or tenants. Is the landscaping lush? Are the windows clean? Does it look like a nice place to live or work? Good curb appeal encourages prospects who are driving by to come in and talk to someone or even fill out an application.
But what if prospects aren't driving by?
The rental process begins online now. That means people are checking you out from the comfort of their own home. They're making decisions about whether to visit your property or call your office based on what they see around the web. So your properties need to have digital curb appeal too.
"Today we are truly a visual society. We retain more of what we see than what we read," says Esther Bonardi, senior director of strategic marketing at Yardi. "Because of this, it's more important than ever to ensure that your online presence – your digital curb appeal – gets prospects interested in your community."
With RentCafe, our complete property marketing solution, you can customize your corporate and individual property marketing websites to ensure that you're attracting prospects online long before they visit in person. Since we have a little (ok, a lot of) experience building property marketing websites, we thought we'd share some of our digital curb appeal best practices with you. Put these in place at your business to be sure you are driving online leads to your properties.
5 Tips for Creating Digital Curb Appeal
Make your website mobile-friendly. First things first, you can't expect people to rent from you if they can't even find you. According to Google's marketing data division, 70% of weekend apartment searches happen on mobile. Your website needs to be mobile-friendly to appear in search results on tablets and smartphones.
Use high-quality photos. Show off your actual curb appeal with images that make people want to move in. Make sure to highlight the external and shared spaces as well as the actual units that are available for rent. Include a combination of property photos and lifestyle photos so prospects can visually see themselves living in your community.
Include amenity details. Don't tell prospects what you have to offer, show them! A strategically designed amenities page with photos and bulleted details will keep apartment searchers on your website. For example, our data shows that the Valley Stream amenities page was viewed for an average of more than five minutes per visitor over a three-month period.
Leverage social media. If you have an active social media presence, you should be linking your social channels to your website and vice versa. You can even use social media to crowdsource photos and reviews and add user-generated content to your website. Check out how this apartment community incorporates Instagram photos on their site.
Make relevant information easy to find. People want to know what's available, how much it costs, and how to take the next step – whether that step is calling, emailing, or filling out an application. Be sure your site is easy to navigate and the important stuff is easy to see (and not buried in a wall of irrelevant copy).
Refresh your website using these five strategies to ensure that your online presence is working for you, rather than against you. Need help? The amazing team behind RentCafe makes it easy for our clients to do all of this and more. If you don't have RentCafe yet, but have questions about it, please don't hesitate to contact us.
For more tips on how to improve your curb appeal in real life, don't miss Heather Blume's presentation on Wednesday, February 24. Yardi is a proud sponsor of Webinar Wednesdays, a series of bi-monthly, multifamily webinars brought to you by Apartment All Stars, NAA, and Multifamily Insiders. Click here to see the list of upcoming topics and register today.