What Renters Want
By Erica Rascón on Dec 22, 2020 in Marketing
Do you know what your prospects want in an apartment tour? Esther Bonardi, vice president of marketing at Yardi, hosted "OPTECH Express: The New Apartment Tour — Insights for Today's Customer Preferences" as part of NMHC OPTECH 2020. The mini session gave insights into the latest renter preferences. Bonardi also offered actionable tasks to carry property managers into the future of touring.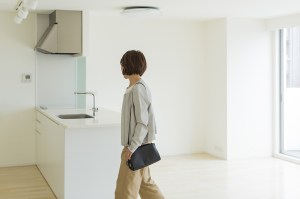 RentCafe.com surveys reveal what renters want
To better understand renter preferences, Yardi issued two surveys. The May survey published by RentCafe.com revealed that 83% of renters would take a self-guided tour if it was offered to them. When asked why they would take a self-guided tour, the results were surprising.
"About 63% of respondents said they wanted to tour at their own time and their own pace. That had nothing to do with social distancing," observes Bonardi. "So we might say from that, it's likely that people want this for other reasons, and it will continue to be important long beyond the pandemic."
Yardi focused on Gen Z and Millennial renters during the fall survey. Results reveal that 52% of respondents preferred a non-agent-led tour, included self-guided and virtual. Nearly 43% said they would still love to work with an agent.
"These are important numbers to keep in mind," says Bonardi. "Those numbers tell us that we have to offer options. One tour type is no longer enough to meet the changing demands of our customers. We need to let them decide what options they want to tour the apartment home."
Tips for offering new tour types
"Don't offer a new tour type just to check a box," advises Bonardi. "Gather with your team and figure out how to make each tour feel as personal and connected as possible. After all, this is leasing a home. We have to make it feel warm and connected."
Bonardi offered the following advice on tour types and user experiences:
Livestream video tours are led by an agent while residents are off-site. Prospects should be able to easily select and schedule this tour option along with other tour types on your website. Yet, because the style of this tour is different, consider how the user experience must also change. How can you personalize the experience for each prospect? How does the agent follow-up after a livestream tour?
"Maybe have the agent snap photos of features that the prospect liked best and send those in the follow-up email," suggests Bonardi.
Self-guided tours are a mainstay in the future of multifamily housing. "It's time to offer self-guided tours on all of your properties where your customer can access and tour an apartment via a smart lock. This tour type is popular, and it's not just because of social distancing."
Before implementing self-guided tours, it is essential to have the right technology in place. Install kits that permit ID verification to improve tour safety and prevent fraud. The technology should be able to scan a license front and back as well as take a selfie and complete photo recognition.
Once ID is verified, the software should be able to issue the smart lock code and unit address with a map through two different methods (such as email and text). Two communication methods add an additional layer of security.
Bonardi encourages leasing teams to consider how they will add their personal touch to virtual tours. "For the user experience, are you providing a chatbot where prospects can ask questions and get answers? Are you making a call center available after hours? What tour highlights are you providing, and how are agents following up to ensure this is a personal experience?"
Conventional tours remain popular with more than 40% or prospects. As such, they should continue to be an easily accessible option. Leasing teams may need to revisit and review tour policies, notes Bonardi, such as how to greet guests and how to offer refreshments.
No matter which tour types you offer, The New Apartment Tour ebook will help you reimagine tours to fit modern renter expectations and get more leases.
Your website, your front door
Property websites are no long a passive place for information. They are an essential hub for garnering leads and the first step in building a relationship with prospects.
"Your website is your virtual front door," explains Bonardi. "Load it up with digital tours of every unit type you have. Add photos for every available unit, the one the renter can actually lease and not just the pretty model photos. That's so important."
Digital tours, as well as photographs, help renters identify properties and units that are best suited for their needs. By the time they schedule a tour, they are likely more qualified than past renters because they have a clear idea that the property can fulfill their needs. The tour, then, becomes the opportunity to seal the deal.
Tools for success
Technology plays a vital role in the future of multifamily housing tours. To successfully market, schedule and conduct tours, the proper tools must be in place.
"When you're thinking of the what and the how, don't forget the who. The right technology partner is one of the keys for your success," says Bonardi.
Learn how you can implement simple, effective self-guided tours at your properties.