Reputation Management
By Geneva Ives on Sep 17, 2020 in Marketing
In the age of online everything, it takes a lot more than a good website to stay on top. Ratings and reviews are the new "word of mouth" for multifamily properties, so it's critical to proactively monitor and protect your online reputation. Here are five reputation management strategies to make sure your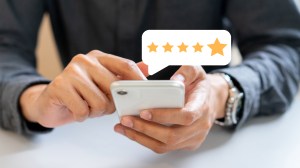 communities get the attention of potential renters for all the right reasons.
Claim your local listings and review profiles
No, we don't mean your vacancy listings. Local listings refer to every mention of your business on the web. According to BrightLocal's 2019 Local Consumer Review Survey, 90% of consumers used the internet to find a local business in the last year, with 33% looking one up every day, so claiming your online listings and review profiles are more important than ever.
To appear in local results for searches like "apartments for rent in [your city]," you must make sure your business name, address and phone number are consistent across every website. This is sometimes referred to as your NAP (Name/Address/Phone).
In an article for Marketing Land, research director Pamela Parker asserts, "It is critical to claim your local listings by providing accurate information to search engines and online directories (namely Google, Facebook, Apple Maps, Bing and Yelp) … Claiming your listings also gives the site publisher a direct, verified relationship with your organization. It establishes your brand as the listing's owner and gives you control over all content and updates."
It's important to remember that claiming your listings isn't something you do just once. You should schedule annual or biannual audits to make sure your business profile remains up to date — and that no one has added inaccurate information.
Ask for reviews
If you're listed on a review site, but don't have any reviews, potential renters will likely pass you over for a competitor with more and better ratings. BrightLocal found that the average consumer reads 10 reviews before trusting a business and visiting your website.
But incentivizing reviews is frowned upon by the big players, like Google and Yelp, and most consumers say they can spot a fake review. So how can you get more authentic, positive reviews more quickly? Award-winning marketer Drew Davis shares the secret in this episode of Moments of Genius.
Reply to reviews
We've all been told that we should reply to every review. But does anyone read your responses? In a word: yes. The same BrightLocal consumer review survey discovered that 97% of people read businesses' responses to reviews.
While it's nice to respond to positive reviews, renters are looking closely to see how you respond to negative reviews. Are you aware of the issue? Did you try to resolve the conflict or offer a solution? No matter how inaccurate or unfair you feel the review is, it's important to show empathy. Read more tips for responding to negative reviews.
Monitor the competition
Ever wondered what people think about the competition? Now it's easy to find out and see how you stack up.
Read competitor reviews to see what renters like and don't like about their properties. Then, use that information to level the playing field or even get ahead. For example, if you find out that renters love the neighboring property's amenities but don't feel a sense of community, you may want to update your website to highlight those elements. You could add amenity photos and pictures of community events as well as a calendar showing virtual and in-person activities available to your residents.
Analyze customer sentiment
While reading (and responding) to every review is key, it's also important to keep an eye on the big picture. Gathering feedback in the form of online reviews is pointless if you're not analyzing customer sentiment to strategically promote change. Sentiment analysis often goes beyond star ratings to identify specific keywords that with positive and negative connotations, giving you more insight into single and accumulated reviews.
Compare ratings and reviews quarter over quarter and year over year to see how your properties are trending and keep an eye out for red flags. If you see a negative shift in customer sentiment, you'll know it's time to give that property a little extra attention. And a positive shift may point to something new a property's done well that can be rolled out to other locations.
Action plan
Now is an ideal time to create or update your reputation management strategy to include each of these five elements. Working through them over the next quarter will help you identify and repair anything that's marring your image and scaring away prospects, positioning your brand for a strong start — and more affordable lead acquisition — in the new year.
Reputation management requires both vigilance and attention to detail. If you're interested in getting a little help, join a RENTCafé Reach webinar to see how we can support your goals. With self-service reputation management tools, a central dashboard, competition monitoring and a full-service option, Reach might be just the push you need to reach more renters.