Home Smart Home
By Lee Ann Stiff on Aug 22, 2019 in Marketing
Wondering how to make your property more desirable in a competitive market? Research shows that today's renters (especially millennials) would rather have high tech amenities than a pool or gym. And, they'll pay more for a smart apartment that offers technology services on demand.
Why? Smart apartments make life easier by keeping you connected, automating daily tasks, reducing costs through more efficient use of utilities and freeing up time for the things you really enjoy. Living in a smart apartment is like having a remote to control almost everything in your home from a phone.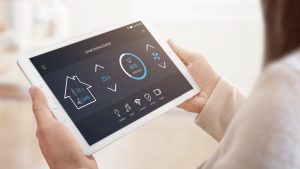 According to the 2018 NMHC Multifamily Disruption Report, "As real time and personalized purchasing experiences become the norm, a lifestyle-focused apartment is as important as location and layout."
Are you offering today's most-wanted amenities? And going a step further, are you future-proofing your community with technology?
Smart stuff
To sign more leases with quality residents who are likely to stay for a while, you should cater to their needs on a lifestyle level by going beyond basic online services. Here are some of the most popular tech amenities that you can offer (and brag about in your marketing) now.
Keyless locks
Smart locks provide convenience and security with keyless entry into apartments via touchpads and mobile apps. They also log when someone enters and leaves a unit. Residents can remotely authorize access to house cleaners, dog walkers, maintenance staff and visitors. Smart locks can also alert residents whenever their door is opened — and can be connected to a security system for additional protection and peace of mind.
Thermostats
One of the most wanted amenities is a smart thermostat, which enables residents to control their apartment climates remotely. Since heating and cooling accounts for nearly half of a property's energy costs, this provides a huge benefit. For empty units, property managers can control the climate to reduce utility waste and keep costs down.
Lighting
Another bright idea, smart lighting is fun and saves money by controlling usage remotely or with scheduled presets. Lights can be programmed to dim, change colors and come on when someone enters a room — and go off when they leave. Property managers can also use smart lights to keep costs down in empty units and create a cool mood for tours.
Resident mobile app
Residents love the convenience of a handy mobile app to do everything from pay rent to control smart locks, thermostats and lights using their smartphones. Your staff will appreciate being freed from administrative busywork (such as processing rent checks) to focus on other tasks — like leasing.
Wi-Fi as a service
Managed Wi-Fi as a service lets residents turn it on like a light switch and change plans anytime with the click of a button. Many smart apartments offer tiered bandwidth subscriptions that can be purchased directly from the property. This provides reliable, simplified internet access for residents — along with incremental revenue for property owners.
Voice control
Amazon Alexa is a voice control technology that has changed the way people interact with their homes. When voice control is connected to a smart apartment software platform, residents can pay rent, access utility information and submit maintenance requests through voice commands. Learn more about the RENTCafé Resident Skill for Alexa and watch the video.
Package management
When you consider that Amazon alone shipped more than 5 billion Prime packages in 2017, automated package management as an amenity for residents is a great idea. Property managers can easily track and receive packages, and residents get automated messages when their shipments arrive.
Smart marketing
An infusion of technology (including the popular amenities described above) can help your property stand out in today's rental searches.
You should definitely feature the tech services you offer as a top amenity in your property marketing. When it comes to branding, make sure your online marketing and onsite experience are aligned. Your website should be responsive and provide a great user experience.
"Be consistent with showcasing your smart apartment technology. When a prospective renter comes to your community, you want their experience to build on what they liked about you online — and hopefully you will exceed their expectations. Train your onsite teams to communicate and reinforce your in-demand smart apartment amenities. You should also check in with your residents regularly to ensure they're happy with their smart tech amenities so you know your vendors are reliable," said Esther Bonardi, vice president of marketing at Yardi.
Ready to smarten up your property? Join a RentCafe webinar to learn more about effective marketing strategies and the next generation of smart home technology.