EPMS Scores
By Geneva Ives on Mar 29, 2016 in Marketing
Established in 1984, Ellis, Partners in Management Solutions, (EPMS) is one of the multifamily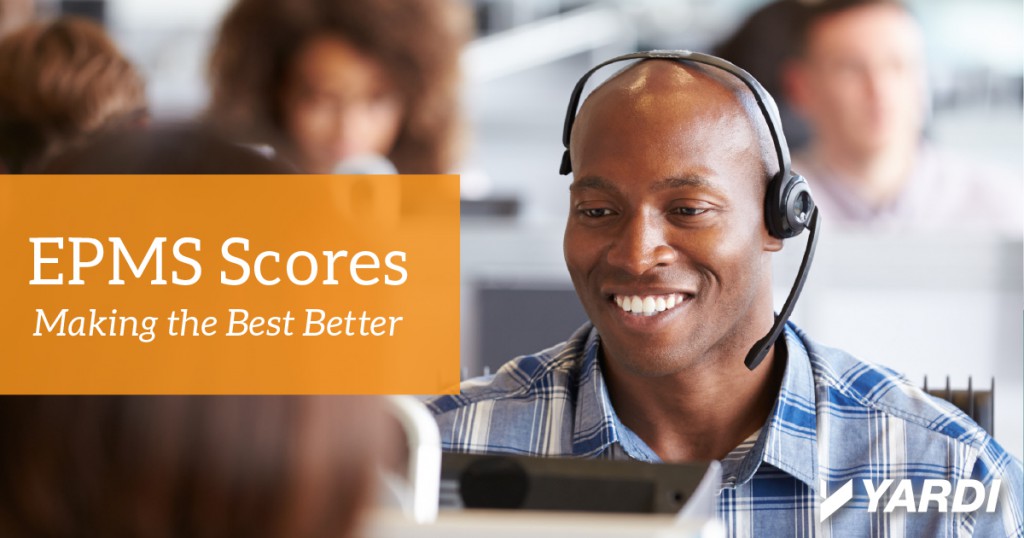 industry's most respected providers of management and marketing consulting services. EPMS' management mystery shopping reports have made it an industry standard in the performance evaluation of leasing professionals. EPMS scores are a very effective way to tell if your leasing staff is helping or hurting your properties.
But what do you do when you consistently score in the 90th percentile in secret shopping reports? Some people might sit back and congratulate themselves. Not us. When this recently happened at our RentCafe Connect customer connection center, we decided to change the test.
The Problem
This sounds like an awesome problem to have, right? On the face of it, we agree. Everyone likes to be told they're doing well. But we also knew that the scores were based on objective criteria about general telephone presentation and customer experience.
Sure, we were providing really good general service as far as call centers go. But were we actually delivering the specialized support our clients deserved? RENTCafé Connect is an incoming communications center that exclusively supports residential Yardi Voyager users. Certainly we could do better.
The Solution
After listening to client feedback to better understand their expectations, we realized we needed to change our approach to better align with their needs, even if it meant initially scoring lower on our secret shopping reports.
"Our team knew that we needed to customize testing and scoring to ensure that our customer connection agents provide the best possible support for our client's properties," said Joe Hendrix, vice president of RentCafe Connect at Yardi.
So that's what we did. In May of last year, we altered our EPMS form to match the criteria our clients are using. The new, more challenging update includes important elements such as building rapport, understanding the needs of the prospect, creating excitement, promoting the management company, and creating urgency.
The Result
At first – as expected – our scores took a big hit, averaging only 73% that first month. But that just meant our new scoring system was working! Now that we had a clear idea of the areas in which we could improve to better fit our clients, we got to work implementing new training methods and measures.
Specifically, these are the actions our training team took to drive overall improvement:
Created a 12-week intensive coaching experience to sharpen leasing skills, with a focus on being conversational, asking questions, building value, driving action, and closing the call.
Added periodic spotlights to remind and refresh agents on specific aspects of leasing.
Made changes to our leasing call flow and scripts.
Revised our internal quality check points and added agent incentives and recognition.
The following are a few of the results of these actions:
Our average secret shopping score went from 73% to 89% by the end of 2015.
In 97% of our shops, the shopper indicated they would have visited the community based on the leasing consultant's presentation.
In May of 2015, 24% of our shops scored 85% or above. In December of 2015, 78% of our shops scored 85% or above.
Before, we were exceeding general call center expectations. Now, we're excelling at meeting the specific needs of Voyager residential customers. Good scores are great, but satisfied customers are better still.
Happy Customers
Of course, we're not the only ones pleased with the results. Our customers are happy too. Improved call quality and better customer service means more satisfied prospects and residents, and that leads to an increase in both leases and renewals.
"Leveraging RENTCafé Connect has allowed us to improve our customer service and gain better insight into the types of issues facing our site staff on a day-to-day basis," said Mario Gaztambide, senior vice president of residential housing for LeFrak. "RentCafe Connect is so much more than a call center. It is a powerful performance management tool that allows us to identify and celebrate our strengths and turn issues into powerful learning and coaching opportunities."
Thanks, Mario! Everyone here at Yardi is confident in the current strengths and future potential of RentCafe Connect, but it's even more exciting to know that our clients are seeing immediate value in our product. Customer success is what drives us to continually improve and refine our offerings.
Interested in learning how you can use RentCafe Connect to get live agent support for your properties within the boundaries of your budget? Join a webinar, watch this video, or contact us. We'll be happy to answers your questions and show you how quality agents, complete integration, and constant innovation sets our inbound communication solution apart!