Human Touch Trumps Hype
By Yardi Blog Staff on Apr 28, 2022 in Global
Should we be snapping up land in the metaverse? Splashing out on virtual real estate? Should we jump onto the next big thing for fear of missing out? Or should the real estate sector be more skeptical about technology?
These were some of the questions Yardi's Bernie Devine and JLL's Jordan Kostelac explored in the latest instalment of the Yardi Proptech Insights series.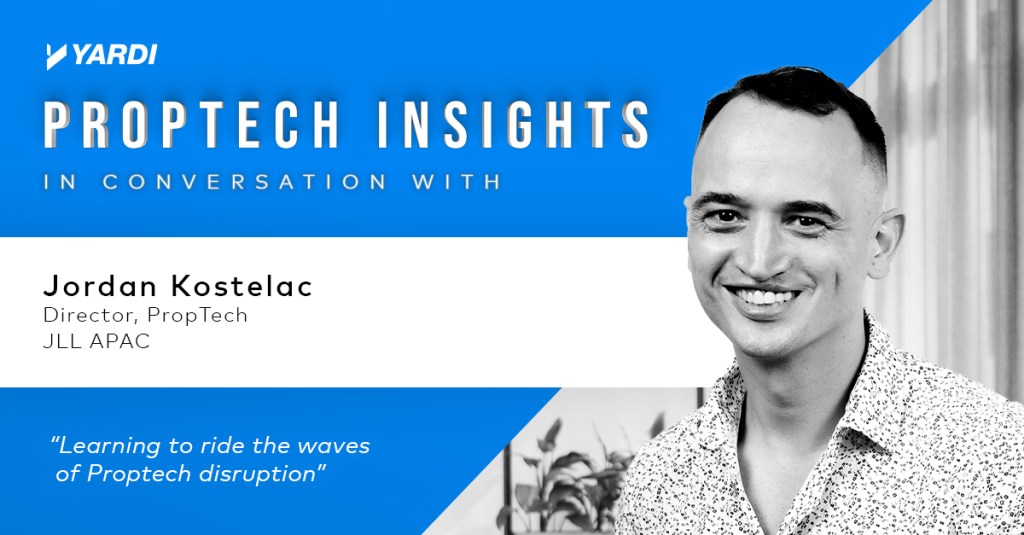 As JLL's director for proptech in the Asia Pacific, Kostelac is focused on turning one of the world's biggest real estate agencies into a technology company that specialises in real estate.
Kostelac's job is to "separate the wheat from the chaff" to uncover the technological solutions that will improve efficiencies, enhance human experiences and create new value.
Technology's main goal is disintermediation or, as Kostelac says, "to get rid of the middleman." But JLL has a 250-year history as an intermediary that strikes deals and supports operations, Devine noted.
"To survive, agencies need to move to a substantially a tech-driven platform where the human touch that agencies bring is amplified, and delivered even better, even smoother and even faster." But does that mean JLL will be building software to sell? Creating the software to support better internal processes? Or something else entirely?
"All of the above – but none of them yet," was Kostelac's response. JLL is investing in core technologies to improve workflows and deliver efficiencies across the business. There is no replacing a good broker, the pair agreed, but technology does allow brokers to automate tedious parts of their job so they can focus on relationship building.
JLL is "fighting over the trophy fish" of premium and A-grade leases. But these only represent a fraction of the market and in the hybrid world of work, "A-grade real estate isn't the only real estate that will matter," Kostelac said. Flexibility will drive demand for lower grade stock so businesses can distribute their networks and create authentic experiences. "It's more than CBD concentration in the future." A bigger market requires better access to data, Devine observed.
The conversation turned to the metaverse and the challenge of separating overstatements and obfuscation from real estate reality.
"The idea that buying virtual real estate now is like buying real estate in Manhattan 250 years ago is just crazy," Kostelac laughed. But "FOMO – the fear of missing out – eats due diligence for breakfast."
The 'fake it until you make it' mindset is embedded in Silicon Valley culture and "there has to be some science fiction otherwise there's stagnation," Kostelac added. But now the metaverse is emerging as the 'next big thing,' Devine noted.
"Blockchain and smart contracts and virtual real estate… I'm still a bricks and mortar guy, because you can't copy and paste Times Square ..The price of real estate is driven by scarcity. But virtual real estate has unlimited supply."
Kostelac pointed to Hong Kong and Sydney – where he and Devine were located – as two illustrations of why physical real estate has value. These cities boast two of the deepest harbours in the world. We can't "program" 39 billion years of evolution into a metaverse. But in the metaverse, "assumed scarcity can simply be overwritten by a single line of code."
"We are looking at threats where they aren't there. And opportunities where they aren't as well," Kostelac noted. But the stakes aren't just economic – we have the looming existential threat of climate change as a reality check.
What is the solution for a sector susceptible to chasing hype, Devine asked? "It's very simple. Show me the evidence," Kostelac concluded.
Watch the latest instalment of Yardi's Proptech Insights and register for our next session, with Proptech Association Australia's founder Kylie Davis, here.