Epic Disruption
By Bernie Devine on Feb 17, 2022 in Global
Big data, artificial intelligence and business process automation may be real estate industry buzzwords, but property companies should start with small data.
That's the key takeaway from the latest Mingtiandi-Yardi proptech survey, which captured the insights of senior leaders from across Asia.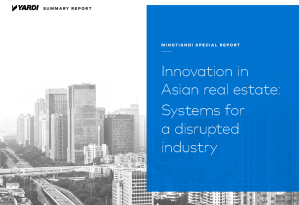 Yardi and Mingtiandi first teamed up to track changing attitudes to proptech in 2017. Since then, we've captured the accelerated adoption of technology to guide data-driven decision-making, transform business processes and enhance the experience for people who live, work and play in buildings.
But we can see that pockets of the real estate industry remain stubbornly resistant to change, and some leaders continue to rely on 'gut feel' to make decisions. As one business leader told me recently: "I didn't need data 20 years ago to make decisions, and I don't need it today."
This 'digital divide' is very clear in our survey. For instance, nearly a third (32 percent) of survey respondents expect big data analytics to have the biggest impact on Asia's real estate sector over the next five years. Conversely, 33 percent of property companies are still using spreadsheets for accounting, benchmarking and performance analysis, 26 percent for budgeting, 28 percent for valuations, and a massive 46 percent to manage their portfolio financing.
Of course, there are some companies that are investing in technology and data at speed. But there is also a propensity for property players to throw around the 'big data' buzzword, when they should be focused on getting their simple back-office functions in order.
Why, when the data clearly shows a growing gap between the leaders and laggards, are some companies choosing not to invest? The simple truth is change is hard work. Resistance to change remains the biggest barrier to proptech adoption across the region, outstripping cost, resources, time or confidence.
But the world has changed and real estate with it. Almost two-thirds (62 percent) of respondents to our survey noted a "significant" or "major" impact on plans for their workplaces following the pandemic, and 58 per cent observed the same level of impact on their portfolios.
The overriding lesson from the Covid-19 crisis is that the world is now consistently inconsistent. Things can, and do, change overnight. Preparing for ongoing unpredictability requires new systems and processes.
The pandemic has also given us a deeper understanding of the value of the technology, not just to help us 'keep the lights on', but also to meet the evolving needs of our customers.
A lot of companies are now playing catch-up with technology, as 60 per cent of our survey respondents expect to invest in business process automation over the next five years, and 58 per cent are pouring money into big data analytics. These companies are now operating from a simple principle: The best time to invest in technology may have been yesterday, but the next best time is today.
Download the Mingtiandi-Yardi summary report: Innovation in Asian real estate.