Yardi Dubai
By Leah Etling on Sep 18, 2019 in Giving, Global
Yardi's Dubai office has adopted a classroom at Al Noor Training Centre for children with special needs as a way of giving back to the community. Philanthropic and volunteer efforts are a key aspect of Yardi's corporate mission in communities around the world.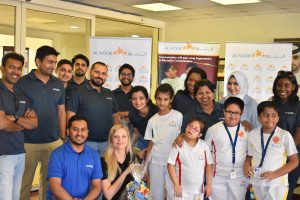 Al Noor Training Centre for Children with Special Needs is a non-profit organization. Established in 1981, Al Noor has been providing high quality of professional training to the special needs community in Dubai for over 30 years.
Al Noor provides care and professional training to approximately 250 children from 35 different nationalities. The centre offers an exceptionally effective work placement unit that trains its students with a capability for employment, which helps the students join mainstream society after their training is complete.
Yardi's Dubai office will sponsor a classroom and contribute towards Al Noor Assistive Technology Department. This department allows the centre to provide holistic training through a range of professional disciplines.
It makes use of assistive technology devices that help students play musical instruments, operate a computer, splash paint on canvas, design garments, switch on a kettle, handle a sandwich maker and even play video games.
"We are delighted to work with Al Noor Center to acknowledge the efforts of the volunteers who help run the centre. We are proud to be a part of this great opportunity to support the community and look forward to contributing to next year's event," said Neal Gemassmer, vice president, international for Yardi.
A team of 20 employees from Yardi Dubai office gave their own time on their recent visit to volunteer at the Al Noor Training Centre. It was a rewarding experience for all who participated.
"Our team determined that we wanted to directly impact the life of these talented children and give back to our local community," said Aditya Shah, director of operations for Yardi in the Middle East.
"We value social responsibility awareness,  and we will always uphold the interest of children with special needs. It is very special to be able to help sustain their advancement and development."
Al Noor Training Centre for Children with Special Needs are always looking for support and sponsorship of their initiatives. Read on to find out about how to get involved in their work:  alnoorspneeds.ae/get-involved/.