The Drive to Succeed
By Erica Rascón on Sep 25, 2019 in Giving
Strong communities stick together to ensure that each member can thrive. Yardi Atlanta has forged an ongoing relationship with Mimosa Elementary School to help even the littlest community members become their best selves.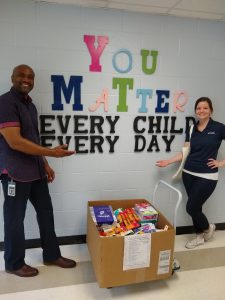 Beating the Odds
Mimosa Elementary School is a Title 1 school with about 800 students. As a school within an Economic Opportunity Zone, participating families often have incomes below the poverty line. As a result, approximately 95 percent of students qualify for free or reduced lunch rates.
Economic difficulty has not stopped the community's passion for quality education. The academic growth of Mimosa's students is higher than 74 percent of schools in the state and higher than its district. About 34 percent of its third grade students read at or above the grade level target, an important milestone for youth. Mimosa Elementary School is Beating the Odds, meaning that it performs better than similar Title 1 schools.
Yardi Atlanta Loves Friendly Competition
The Roswell, Georgia community bands together to help Mimosa students prepare for class. Each year, Yardi team members collect the supplies that local kids need for confidence and success in school. Christie Daniel, Keiya Huguley, Shawn Walker, and Terence Walker of the Yardi Atlanta School Supply Drive Committee organized this year's event.
To tap into employees' sense of friendly competition, organizers turn the supply drive into a game. Teams were challenged to be:
the first to collect all the items on the school's wish list. Winners received lunch on the house!
the team that gathered more donations than all other teams. Winners receive an ice cream party!
The first team to collect all items on the school supply list was the Classic and Genesis 2 team. The team to collect the most items was the Affordable Programming team. Congratulations to both hardworking and compassionate teams.
Yardi + Mimosa Middle School
The Yardi family collected 3,588 items for school children.  Donations included the essential school supplies such as notebooks, pencils, markers, glue and crayons. Employees also donated facial tissue, hand soap, hand sanitizer and disinfecting wipes to help teachers maintain a safe and hygienic environment for young learners.
"One word that best describes our collective effort: Wow! It makes me incredibly proud to work alongside individuals who are so caring and generous. The donated supplies will be available for Mimosa's nearly 800 students who may have otherwise not had the school supplies needed," said Christie Daniel, technical account manager, CSD.
She adds, "Our donations may even extend into future years. Thank you for giving Mimosa's students the tools to succeed in school!"
Yardi is Energized for good! Learn more about Yardi corporate philanthropy on the Giving page.