Tech for Success
By Erica Rascón on Aug 13, 2021 in Giving
Virtual classrooms demonstrate the marvels of modern technology—for those with access to them. Students without adequate technology faced a myriad of challenges. Among them, some students did not have internet connectivity while others struggled to navigate multiple class schedules on shared computers. The attentive staff of Toronto Community Housing Corporation (TCHC) noticed the need and stepped in to help.
We caught up with Toshania Solomon and Debra Shaw at TCHC via Zoom to learn how they helped tenants thrive in remote learning environments.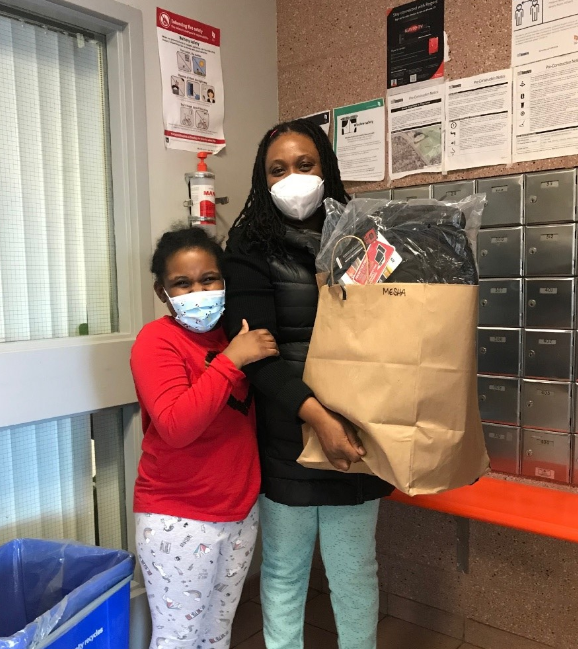 Meeting the need
Solomon was fresh on the job at TCHC when we spoke. With her, she brought years of experience in program management and community planning. This enabled her to hit the ground running as the supervisor of program support and implementation.
"One part of me was always working with people while the other part worked in the background with strategic structure," smiles Solomon. "For me, it's all about impact."
The first high impact project was largely self-assigned. During school closures during COVID-19, Solomon and her team noticed profound needs in the community. "My job entailed afterschool and summer programs," began Solomon. "I noticed many families didn't have access to devices or only had one device with multiple kids."
The organization developed the idea of Tech for Learning Success, technology kits for families. The kits would include laptops for children and youth grades one to 12, internet subscriptions via Rogers Connected for Success, connection hardware, homework assistance and resources for adults.
"One the idea was in place, everything just…began to come together," says Solomon.
Tech for Learning Success
TCHC received a grant from Yardi to purchase the kits. With the funds, Solomon and her team were able to expand them to include laptop carrying bags, mice, headphones, notebooks and other essential office supplies.
"Thanks to Yardi Canada's donation, we provided technology kits to 20 families in total. Sixteen families connected to TCHC through our Active Living programs, and four families from our rapid housing program that places families from the Toronto Shelter system into TCHC units," reports Debra Shaw, development officer for programs and partnerships at TCHC.
"It's so important that kids in our community could be equipped like everyone else. We were able to meet them where they're at and elevate them from there," says Solomon.
It was so important to her, in fact, that she participated in the assembly and delivery of the kits. Along with members of the regional team, Solomon put supplies in the hands of 43 young people. They belonged to families that had registered on a first come, first serve basis as well as families with unique needs.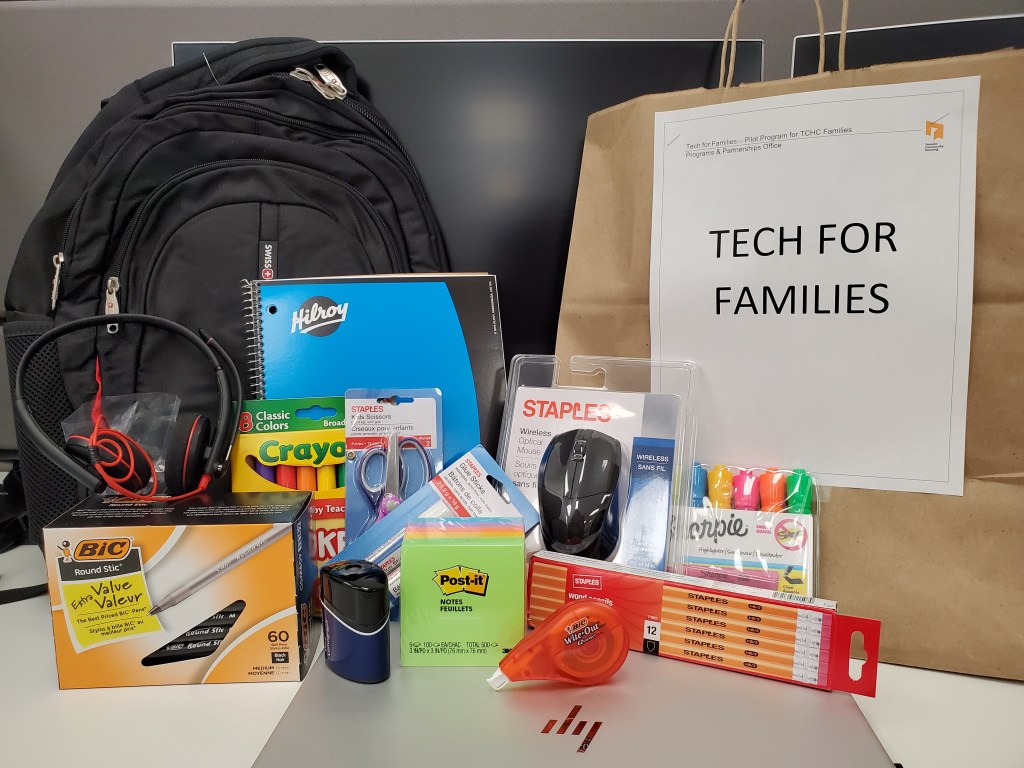 Shaw explains, "One family has a child with cerebral palsy who needs to spend more time in her online classes. This affects the other four children in the household who also need access to the device for online classes. It has been difficult to balance all of their online learning. They are particular pleased to have been selected for this program."
Putting kits to work
To optimize use of the kits, TCHC developed two learning streams. In Stream one, parents attended four 45-minute online workshop sessions. The sessions introduced parents to the devices as well as the basics of cybersecurity, teaching at home and general wellness.
In stream two, kids and youth learned how to operate the technology appropriately and how to stay safe while on the internet.
Families also receive a PDF listing free educational resources such as community agencies offering support, games, worksheets, literacy and free tutoring services. These resources are all accessible online and community services broken down by geographical regions.
"This project has been so rewarding," beams Solomon. "To be clear, tenants are thriving with or without our help. They're doing what they need to in order to get things done. Tenants, including the kids, have an unmatched sense of resiliency and they're able to tap into resources and share them. But I'm so glad to be a part of this and offer these resources."
The lasting impact of technology
TCHC checked in with households one month and four months after receiving the kits. Overall, recipients report a sense of relief. The Tech for Success Kits helped to alleviate stresses around remote learning. Tenants were enthusiastic about participating in the program:
"We are so excited to have this new laptop on hand at this moment. This will really help
myson with his virtual classes online. Thank you so much for this great gift." – Tenant
from Firvalley
"The kids are now able to get more homework done as they were sharing before." – Tenant
from Scarlett Manor
"Keep up the good work as this kind of work is always appreciated and there are a lot of
families in need." – Tenant from Scarlett Manor
Twenty children from twenty families enrolled in six, 30-minute private tutoring sessions. The majority of families (15 out of 20) were strongly committed to the program and participated in the tutoring and additional supports offered; they stayed connected with TCHC staff to access as many resources as were available for their children. Nine children attended the sessions three or more times and four children one to two times.
Three families found the tutorials rewarding enough to register their children in a complementary after-school program. They receive additional homework help and participate in extracurricular activities.
"This engagement is, in our collective opinion, the strongest argument in favour of this and similar programs in TCHC buildings," says Shaw. "We were able to pull this together so quickly because Yardi has gone above and beyond in support of the community."
"Investing in the future of Canada involves changing our mindset," says Altobelli, "the first step is to be a part of the conversation and listen to what is needed. These communities bring innovative perspectives that will transform our global competitiveness in the coming years."
Yardi is Energized for Good. Learn more about corporate social responsibility at Yardi on our Giving page.