Stepping Up
By Erica Rascón on Jun 1, 2020 in Giving
(Part three of a three-part series highlighting the efforts of food banks during COVID-19. Read about food bank efforts in Santa Barbara and Raleigh.)
Always a supporter of the communities in which its offices are located, during the last three months Yardi has committed funds for hunger relief services across North America. This week, the real estate software leader announced a second round of donations for the food banks it supported in March. (Read previous blogs on the Santa Barbara County and Raleigh food banks.)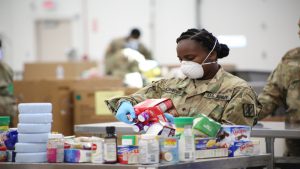 An example of one outreach was a grant to the Atlanta Community Food Bank (ACFB). "I know what a big difference this will make in so many lives locally," says Don Rogers, general manager for Yardi Atlanta.
Ben Burgess, ACFB corporate relations manager, received the donation from Yardi. "I'm speechless. This is the kind of overwhelming generosity that makes me love what I do and working with companies like yours," Burgess said.
From bad to better beyond expectations
In early March, ACFB relocated to a new office. When COVID-19 business closures hit, the organization was still trying to acclimate to its new environment. "Most of us were still figuring out where all the light switches were and which printers were ours when this hit," says Burgess. "We immediately lost our biggest fundraiser, the annual Hunger Walk/Run 5K and our annual Golf Tournament."
As consumers stocked up on supplies to shelter in place, retail stores became overwhelmed. Empty shelves left little to donate to the food bank. "Retail store donations represent round 1/3 of our food inventory which was just .. gone. We were bracing for the worst," says Burgess. But in the midst of that anxiety came unexpected support for ACFB from the local community.
"People stepped up to support us from all over the place. Businesses, non-profits, individuals, everyone. We know for certain that at least 30 people have donated the entirety of their stimulus check to help those who need it right now," Burgess said.
Volunteers, a crucial component of most food banks' operations, couldn't come in due to social distancing requirements. But an alternative source of help stepped in.
"We typically host over 125,000 volunteer hours per year – but the state gave us 50 National Guard service members to help fill that role five days a week. It's been an overwhelming thing to see," Burgess said.
We are in this together
As a result of the community outpouring, ACFB has been able to meet the demand for emergency aid in the community. The organization has distributed over 7 million pounds of food in the last 30 days, including 4.1 million in the last two weeks.
Every donation is needed. "In demand, we estimate an increase of more than 30% in the last 30 days which puts us at more than 1 million people who are food insecure in the metro Atlanta area right now," reports Burgess. "We are humbled. Thank you. Thank you. Thank you for your support!" says Burgess.
Learn more about emergency relief efforts at ACFB:

Join Yardi in donating to the Atlanta Community Food Bank.