Safety and Support
By Nik Edlinger on Oct 8, 2019 in Giving
Nearly one in four women and one in seven men have experienced a violent or abusive relationship. It's a stunning statistic, but despite the preva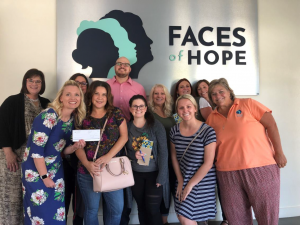 lence of domestic violence, the issue doesn't get the attention and action it deserves.
October is National Domestic Violence Month, and organizations across the country, Yardi included, are rededicating themselves to breaking the cycle of violence and raising awareness for the cause. In our Boise office, the team has taken a stand for local nonprofits who serve victims of abuse in their community.
Every year, our offices select hundreds of nonprofits to support. The Boise team chose to partner with the Women and Children's Alliance and Faces of Hope. In addition to sponsorships, employees have participated in tours, donated goods and volunteered their time.
Women and Children's Alliance
Originally founded more than 100 years ago, the Women's and Children's Alliance (WCA) endeavors to build a community where individuals can thrive in safe, healthy relationships. Its crisis program offers plenty of services to women, men and their children who are healing from abuse, including 24-hour hotlines, shelter space, therapy and education.
WCA staff recently visited our Boise office to host a "tour in a box," where they gave a presentation on their mission and provided a virtual tour of their facility. Each employee left with a better understanding of domestic violence and the work WCA does for the community.
In honor of National Domestic Violence Month, the Boise team also spent time putting together purple ribbons for WCA at a corporate event. While its origins are unclear, the purple ribbon has grown into a symbol of courage, survival and dedication to ending violence. The WCA will use the ribbons to help raise awareness during the month. Employees in Boise plan to make more ribbons throughout the year for other upcoming awareness campaigns.
Faces of Hope
A warm and welcoming place to stay can make a world of difference for those suffering abuse. Faces of Hope is a community victim-assistance shelter that enables access to all the services they need in a single location. The shelter has 17 community partners who cover the spectrum, offering safety planning, support groups, medical care, job training and more.
In August, a handful of Boise employees had the opportunity to tour the Faces of Hope facility and see the care they provide firsthand. The team also brought computers and other much-needed items to donate to the group.
How you can help
If you'd like to take part in National Domestic Violence Month, the National Coalition Against Domestic Violence offers strategies for speaking out and getting involved. Sign up for their newsletter and they'll send a toolkit to help you start raising awareness.
For more information about domestic violence and ways to stop the cycle, visit the WCA resource center. They've collected useful links and guides for ensuring everyone can live in safety.