Paint the Town Pink
By Erica Rascón on Oct 21, 2019 in Giving, People
The AVE motto is live better, and the team there is truly committed to delivering the best living experience possible for their residents. Apartment floor plans are designed for comfort, amenities and services are programmed for convenience and wellness, and events and initiatives are offered for community engagement.
Their latest campaign "AVE Goes Pink" partners up with Susan G. Komen Philadelphia® to support its mission to reduce the number of late-stage breast cancer diagnoses in the Philadelphia Area while continuing to provide education, resources, and access to services to those who are battling the disease.
AVE Goes Pink
"AVE Goes Pink" (link to www.aveliving.com/pink) launched October 1st to support Susan G. Komen Philadelphia®, a respected voice in breast cancer education. "We turned all our logos on our social media channels pink to raise awareness for the cause and to let those who are currently fighting breast cancer know our thoughts are with them," says Lea Anne Welsh, COO of Korman Communities and president of its AVE brand. "Our teams at the properties will also be wearing pink throughout the month."
"Typically, we wear black or dark grey. When a resident sees me in pink, they ask and it starts up a conversation about breast cancer awareness," says Lauren Brauer, Leasing Manager, AVE King of Prussia.
She continues, "Breast cancer awareness really hits home for me. Having had family members and friends go through the struggles of breast cancer, I want to do all I can to support them, as well as all others who have gone through it and are currently battling it."
Lights for the Fight
Much of the Philadelphia skyline is getting involved. Susan G. Komen Philadelphia® and CBS 3 manage "Lights for the Fight." The duo coordinates with city landmarks to turn the Philadelphia skyline pink during the entire month of October.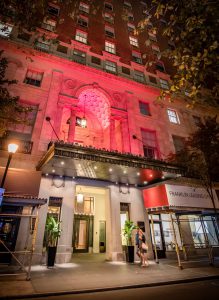 The Franklin Residences, an AVE property in Center City, Philadelphia, is participating this year. The site installed pink gels over its iconic Benjamin Franklin House sign. The Lincoln Balcony is also bathed in pink light.
"The light display salutes the thousands of brave individuals in Philadelphia who have survived breast cancer. It's a reminder to all to stay vigilant in the fight," explains Emily Heisler, General Manager at The Franklin Residences.
AVE in ACTion
AVE's dedication to the cause isn't simply aesthetic. The Philadelphia-based, fourth-generation real estate company is making a donation to Susan G. Komen Philadelphia® for every apartment lease signed at any of its communities in October.
"I have signed several leases this month and our future residents feel so excited that they are also contributing to this cause through signing their lease during the month of October," says Brauer.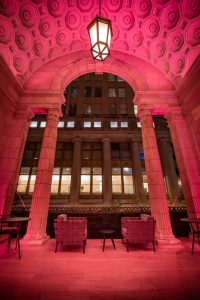 Funding supports ongoing services offered by the non-profit organization. Charity Navigator gives Susan G. Komen® an overall score of 82.32/100. The charity directs 28.8 percent of funds to research, 24.5 percent to screening and treatment, and 46.7 percent to educational programming.
"Our team is really passionate about giving back to the community," explains Welsh. "We support Move for Hunger, Career Wardrobe, and various other causes throughout the year. But the excitement level among the team and the reception from the community for 'AVE Goes Pink' to benefit Susan G. Komen Philadelphia® has been so positive and heartwarming. We all know someone who has been impacted by breast cancer, and we're just happy to do whatever we can to support this incredible organization in their mission to end this devastating disease."
Yardi clients are Energized for Good! Visit our Giving page to learn more about client corporate philanthropy.