Opportunity Equity
By Erica Rascón on May 3, 2021 in Giving
Investing in the wellbeing of girls and women is among the best choices that a country can make. According to the United States Agency for International Development, when 10 percent more girls go to school, a country's GDP increases on average by 3 percent. Additionally, countries where women hold at least 30 percent of political seats are demonstrably more inclusive, egalitarian and democratic.
The benefits of female-centered investments are also tactile. The United Nation's Food and Agricultural Organization found that when equipping female farmers with the same access to land, tech, and capital as men, crop yields increased by as much as 30 percent. That 30 percent boost can reduce the number of hungry people by 150 million.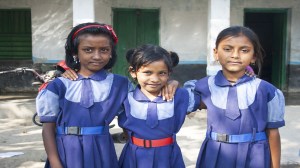 Women's advocacy has social and economic benefits. The Corporate Social Responsibility (CSR) department of Yardi Pune participates in many partner projects in socio-economically disadvantaged neighborhoods. Women and girls are the target beneficiaries of most projects. The initiatives reflect gender advocacy in the context of health, sanitation, education and income generation.
BSSK + Yardi support higher education for girls
Selecting a college and completing courses can be a tough choice. For many low-income families in Pune, financial struggles are exacerbated by social pressure. The Yardi Pune CSR and Bharatiya Samaj Seva Kendra (BSSK) collaboration results in scholarships for 40 girls who dare to pursue a college education.
What sets BSSK apart from other scholarship programs is that it is structured to help girls overcome social pressures that would dissuade them from self-advocacy and education. The project implements programs to counter the family and community pressures girls often face. Their parents also sign an agreement that they will not hinder their daughter's education.
Once the agreement is in place and prior to college admission, the selected student receives an aptitude test and career counselling to help her select suitable courses. Scholarships then address admission fees and tuition so that she can focus on her education.
"Most of these girls are first generation college graduates in their family and are challenging the regressive social norms in family and community through their hard work," says Dipanwita Sengupta, senior executive, CSR at Yardi Pune.
MASUM + Yardi demonstrate that supported girls support other girls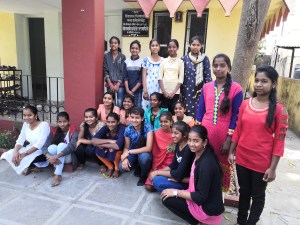 The Yardi Pune and Mahila Sarvangeen Utkarsh Mandal (MASUM) collaboration explores the intersection of education, physical wellbeing and leadership. The program supports 35 girls and young women from 25 villages around Pune.
"These villages have limited access to schools and colleges, and often regressive views on girls' education and career development which are addressed through this fellowship program," says Sengupta.
Through the fellowship, participants receive guidance on their higher education plans. They are also given support and access to extracurricular activities such as outdoor sports. Since such practices are uncommon in their communities, the program counsels girls' families on the benefits of education, physical fitness and team sports if required.
During the program, participants are encouraged to develop their leadership skills. Recently, the 35 original participants learned volleyball. They then gathered about 150 girls from their respective villages for a volleyball competition. The event showcased the cascade effect of the program: supported girls support other girls. It was a fun and empowering event for all.
Yardi empowers intermediaries for health and safety
Yardi Pune CSR worked with local health officials to identify approximately 2,000 women from 226 slum pockets. Each woman demonstrated leadership potential, which was further developed as she stepped into intermediary roles between community and government.
The women received education on how to help improve sanitation conditions of their locality. They then monitored the community toilets in their locality, met regularly to build community consensus for common decisions, and contacted elected representatives and officials for information and services. Through this process, many of them are developing their potential as community leaders.
FPAI Pune + Yardi help to build healthier families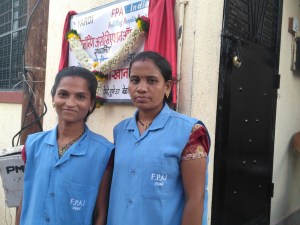 Family Planning Association of India (FPAI) Pune and Yardi Pune CSR are working together to build healthier families in and around Pune city. In this collaborative effort, the organizations regularly engage about 27,000 families. Women often represent these families. Staffers provide information and services including medical check-ups, medicines and treatment for various sexual and reproductive health issues.
Female participants can receive pre- and postnatal care, family planning and contraceptives. Preventative services also include screening for HIV, breast cancer and uterine cancer.
All participants may join sessions that promote awareness on responsible and safe sexual practices, sexually transmitted diseases and contraception use. Measures are underway to increase participation of men in family planning decisions.
FPAI and YISPL CSR also provide services and programs for at-risk populations. These groups include single women and members of the LGTBQ+ community.
"All services are provided free of cost with a rights-based and non-judgmental approach by the project team," says Sengupta.
Yardi invests in vocational training for women
India's overall literacy rate is presently at 77.7% with approximately 15% gap in the literacy rate of men & women wherein only 70.3% women are literate against 84.7% men. This gender gap in literacy has long term impact on access to income and quality of life.
Yardi Pune CSR provides opportunities for women regardless of their educational background. A large number of beneficiaries of the Yardi Pune Vocational Training program are women from low-income households with limited formal education. Yardi Pune CSR and its partners identify participants' existing skill sets and plan short-term courses on stitching, embroidery, beauty treatments, jewelry making and other handicraft. Such courses have given women opportunities to earn through minimum investments.
Young women who have completed their school education are encouraged to join job-oriented courses to become nursing assistants, medical laboratory technicians, data entry operators and other entry-level jobs. Subsidies provide course fees on behalf of participants. The project follows-up with each candidate after the trainings and provides support and counselling if required.
SMS + Yardi work with communities to tackle tough topics
Yardi Pune partners with Stree Mukti Sanghatana (SMS) to conduct educational sessions for adolescents on sexuality, addiction and other wellness topics. Sessions take place at eight high schools across Pune city.
The nonprofits also provide individual and group counselling services within the schools through trained counsellors. Themes include child sexual abuse, violence, child labor, child marriage, school drop-out and other issues within the schools and communities.
Yardi is Energized for Good! Explore our Giving Page to learn more about Yardi's CSR initiatives across the globe.