Meals that Heal
By Erica Rascón on Aug 11, 2019 in Giving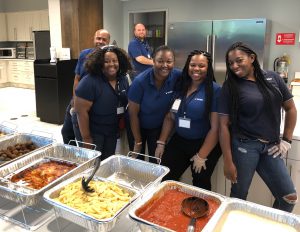 It all started with football. In the early 70s, Philadelphia Eagles player Fred Hill spent many days in hospitals with his daughter as she underwent treatment for leukemia. The merciless straight-back chairs, lack of beds, limited and unhealthy food options were trivial problems compared to the cost of care and accommodations during treatment. It was a formidable challenge even for an NFL salary. Hill realized that something needed to be done to help families. The concept for Ronald McDonald House (RMH) soon took form.
How McDonalds Got Into Health Services
How the fast food mega chain, McDonalds, developed its health services nonprofit is an unlikely story.
The Eagles raised money for the first house on their own, passing a bucket at a home game. They gathered more than $10,000 in donations at a single game!
Team representatives then approached McDonalds. They asked if $0.25 of profits from The Original Shamrock Shake promotion could be donated to buy a property. McDonalds decided to dedicate all proceeds from the shakes to the property fund in exchange for naming the house after the company. The first Ronald McDonald House was purchased with $100,000 in donations from sports fans and milkshake lovers.
Yardi Atlanta Volunteers with Ronald McDonald House, Peachtree-Dunwoody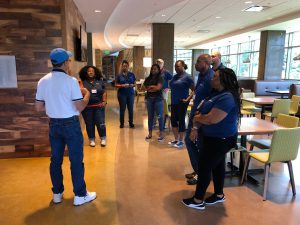 Ronald McDonald Houses rely on volunteers to make the houses into homes. Volunteers regularly offer support, entertain kids, and provide meals for families.
Yardi Atlanta stepped up to the plate to pitch in. Volunteers included Shawn Walker, Jay Troxel, Craig Giattino, Amanda Leake, Keiya Huguley, Janese Walker, Tonika Law, Erica Rascon, Thomas Barker, and Stephen Malone.
The volunteer event began with a tour of the facility lead by Scott Mills, evening manager. Yardi employees learned the history of RMH Atlanta and explore the building which included resident rooms, game rooms, a living room, dining room, and a massive indoor treehouse.
"These families are far from home and enduring some challenging situations," said Mills. "You volunteers, you're providing more than just a meal. You're helping them to feel at home and give them  some comfort."
The tour ended in the community kitchen where volunteers would get to work. This kitchen is a workspace for volunteers, but it is also a place where families can store their own groceries and supplies which minimizes the costs of eating out.
Yardi Atlanta prepared an Italian feast for residents. While bonding over family recipes, favorite spice blends and meal traditions, employees worked at stations designed to facilitate smooth meal preparation: classic spaghetti and meatballs, chicken alfredo, lasagna, garlicky Italian bread, salads and desserts awaited house guests by 6pm.
After serving the meals to guests, team members labeled leftovers and stored them in the fridge for families to enjoy later. Yardi employees cleaned up the space so it was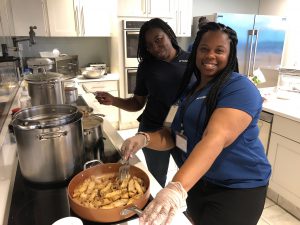 ready for families once again. It was late by the time that the work ended, but everyone left with a smile.
"This is my second time volunteering," said Troxel. "It's great to be able to help these families and make a difficult time in their lives a little easier."
Yardi is Energized for Good! Join us! Support RMH Atlanta.