Making History
By Erica Rascón on Jan 14, 2020 in Giving, People
Dorothy Day Place, owned and operated by Catholic Charities of St. Paul and Minneapolis, has made history. With 370 permanent supportive homes and 356 emergency and medical respite beds, it's one of the largest affordable housing projects in the state. The project is also the largest public-private partnership involving housing in Minnesota history. Dorothy Day Place was made possible in part by a philanthropic collaboration between Catholic Charities and Yardi client, Dominium.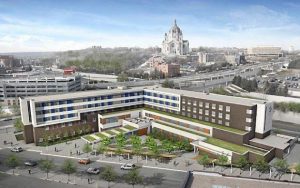 New Phase, New Chapter in History
Dorothy Day Place wasn't planned as a record-breaking collaboration. With the first phase complete, Catholic Charities turned its attention to phase two in 2017. Leadership recognized that the ambitious second phase would benefit from the insight and expertise of an experienced developer.
Catholic Charities contacted Dominium, one of the country's largest affordable housing developers and a fellow Minnesota-based organization. The response of Paul Sween, managing partner of Dominium, took Catholic Charities by surprise.
Sween offered to develop the second phase of Dorothy Day Place free of charge.
Perhaps to Sween's surprise, the initial request came from the bank. "We instinctively said 'yes' to helping with the project when our partner U.S. Bank asked us to do so simply because we knew how important it was to them," Sween explained in an interview with Housing Finance. "We know the great work of Catholic Charities and how critical the transformation of the property would be to their mission."
Dorothy Day Place broadens the scope of Dominium's work. Historically, the firm develops and manages affordable housing for people who earn at or below 60 percent of the area median income. The Dorothy Day Place project serves residents with incomes below 30 percent of the area median income.
Jeff Huggett, vice president and project partner at Dominium explains, "Every unit of housing at Dorothy Day Place is for people who have experienced long-term homelessness. Our very strong regional economy is leaving too many people behind. Dorothy Day Place is a hand up to help people onto the very first rung of the housing ladder."
He continues, "We know how to develop, how to finance. But this project requires services and spending significant time giving people a hand up. Our company and most for-profit companies aren't equipped to do that. By partnering with Catholic Charities we can. They have been doing this for 150 years. They've been providing services to the most vulnerable among us."
The $75 million second phase of Dorothy Day Place includes 177 permanent supportive housing units. Community members will also have access to dental care, job training, and other social services through the Saint Paul Opportunity Center. It is estimated that the Opportunity Center will distribute more than 225,000 meals each year in addition to its community services.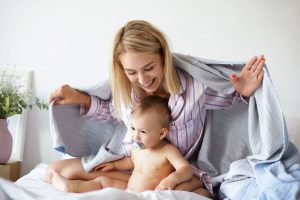 Corporate Social Responsibility, Reimagined
As anticipated, Dominium helped Catholic Charities complete the project with lower costs and greater efficiencies, reported Tim Marx, president and CEO of Catholic Charities of St. Paul and Minneapolis. What was not anticipated was the impact the pro bono work would have on the affordable housing giant.
"We discovered what an honor it is to share the years of experience we have in developing affordable housing that works," recalls Sween. "It refocused us; we now devote 10 percent of our development time to pro bono projects."
The pro bono work is spearheaded by Huggett, who has upheld the mission of Dominium for 22 years. He and a small team at Dominium devoted two years and about 4,300 hours on Dorothy Day Place. The work proved to be so gratifying that Huggett proposed to quit his job and pursue non-profit consulting full time.
Sween persuaded Huggett to stay with Dominium and use the firm's resources to pursue the pro bono projects on its behalf. Huggett readily accepted the offer.
"The only way I can do this work is because our 1,000 employees are working hard and doing so well that we can earn a profit and support [pro bono projects]," says Huggett. "Across the board, the company supports this effort. My partners, who take money directly out of their pockets, support this effort."
A Bright Future
In fall 2019, the first residents moved into the second phase of housing at Dorothy Day Center. Social services are fully operational. Previously homeless individuals in the Twin Cities are taking steps forward to a more stable future.
The future of the new pro bono division at Dominium also looks bright. The organization has more than half a dozen project in queue. Nonprofits throughout the nation are eligible for the collaboration.
"This is putting your money where your mouth is. This is integrity in action. To whom much is given, much is expected. The owners and the partners have absolutely internalized those truths," says Huggett.
Additionally, Dominium expects to be the country's pre-eminent private developer, owner, and property manager of affordable housing by 2025. Upon reaching that goal, Huggett sees additional opportunities to learn, earn and serve. He works with both recent graduates and experienced professionals on his pro-bono team.
He says, "This is about culture. What we are communicating by our actions, 'There is a path for you to do the same.' This path to do this good work is out here for others to emulate. We invite a lot of young, smart, aggressive college grads to learn how to do this pro bono work, much of which is more complex that our traditional projects in many ways. As we grow, we can scale our giving to be commensurate with our growth."
"In the affordable housing industry, there are a lot of people doing good work all over the country. This is the antidote to the us-against-them media narrative. It happens more often than you think. It's just not broadcast on FOX and MSNBC. It's happening and we need to shed light on it and be united by it," says Huggett.
To learn more about Yardi clients that are Energized for Good, visit our Giving Page.