Developing Leaders
By Erica Rascón on Sep 4, 2019 in Giving, People
For most kids, growing up is riddled with lessons in how to be a good follower. Follow the rules at home. Follow directions at school. Follow the norms of the community in which we live. Youth leadership, however, is widely accepted as a means of instilling responsibility, positive self-image and motivation in kids.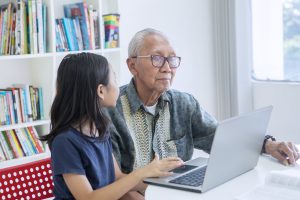 Youth Empowering Parents reverses the mentorship dynamic to help kids uncover the leader within. Yardi caught up with Agazi Afewerki, co-founder and executive director of the nonprofit, to learn more about its successful and innovative programs.
Millennial Style
Agazi co-founded Youth Empowering Parents with his friend in classic . They saw two needs in their Regent Park, Toronto community: adults without access to professional development resources and kids without access to meaningful leadership opportunities. They looked around for support, but they didn't find what they needed. They then proceeded to spearhead  the nonprofit themselves. Learning along the way would be part of the business plan.
"It's how I and a lot of other kids grew up," says Agazi. "We helped our parents learn. It's a natural dynamic. So we figured why not put that in a classroom setting? It's a leadership opportunity for young people and a high quality education for adults and seniors."
With only 11 days of business development behind them, they launched their first class. Its success surprised (almost) everyone.
Solving Multiple Problems with One Program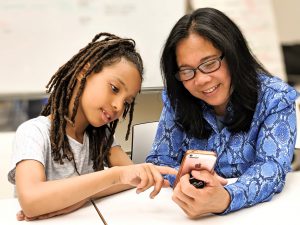 On the surface, Youth Empowering Parents fills the gap between adults and the skills needed to thrive in a new world. Many adult participants are first generation immigrants that struggle to transfer their existing knowledge into a country with a new language and rapidly changing technologies. But that's only one layer of the problems that the nonprofit addresses.
Youth Empowering Parents provides personal expansion opportunities for kids who rarely have formal opportunities to do so.  "Kids in low-income housing neighborhoods often lack leadership opportunities. They are perceived as being less talented so there is nothing meaningful for them to do. They may be told, 'Here is an opportunity. Go shred paper or post these flyers,'" reflects Agazi.
He continues, "In a high-income neighborhood, they assume the young people have better talents. Kids create a proper filing database system or a social program for seniors. There is more of a leadership role. The long term effects among lower-income kids are lower grades, lower confidence levels, and negative self-perception. Youth Empowering Parents is an opportunity for them to take ownership of something and gain leadership experience in their own neighborhood."
For the first session, the organization managed to pair 10 students with 10 adults. Three months later, they had 40 pairs which then skyrocketed to 100 pairs nine months into their first year.
The Not-So-Secret Secret to Success
"Over the years we've encountered other organizations who tried a similar concept, kids teaching adults, but failed to make it work" says Agazi. "What set us apart, why we did so well, is that we focused on preparing our kids."
Other organizations ran into a wall, it seemed. Kids were seen as too impatient and lacking the communication skills needed to relate to adults. There were also misconceptions about what sort of content adults could learn from youth. Adults were willing to let kids teach them technology but faced resistance when learning language, math, music, or other non-tech skills.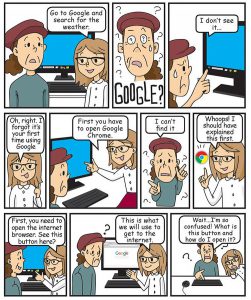 A deeper look at volunteer training was the solution. Training is an integral part of any organization's success. That doesn't change when the volunteers are largely composed of children. What does change, though, is the way that materials are taught.
Youth Empowering Parents created comic-book style training manuals that appealed to their young audience. The materials empowered kids to be confident, patient, and communicative. Developing those three traits are particularly importance, since most of the organization's volunteers have suffered from behavioral issues and academic challenges in the past.
Gaining Support + Momentum
Youth Empowering Parents received the 2011 United Nations Innovation Award. There are only 10 awards granted worldwide. With one exception, award recipients actively served their communities for at least 15 years. They had household names, some with presidents on their Board of Directors. Youth Empowering Parents was that exception. It was the only small organization with less than a year of operation.
The grant made a major impact on expanding the organization to 45 programs in 5 countries covering 35 different languages. More than 3,500 people have received the benefits of reverse mentorship.
Yardi is also a proud sponsor of Youth Empowering Parents. Funds supported the development of the nonprofit's new training materials for youth in remote communities where programs face greater barriers to resources.
Getting Involved
Residents of metropolitan Toronto are encouraged to attend the Bubble Soccer Tournament on September 19th. It is a fantastic way for individuals, families, and organizations to build camaraderie while having fun! Worldwide, donations are appreciated as well as referrals for organizations that may be interested in hosting classes.