Commitment to Education
By Leah Etling on Aug 29, 2022 in Giving
Continuing a longstanding focus on education, Yardi is pleased to announce the establishment of new scholarships at four Historically Black Colleges and Universities (HBCUs) in Atlanta and Raleigh, cities that are also home to Yardi offices.
There are 107 colleges in the United States that are identified by the U.S. Department of Education as HBCUs. Most were established in the Southern U.S. prior to the Civil Rights Act of 1964 and were created to provide opportunities to Black Americans who were excluded from attending other higher education institutions during segregation.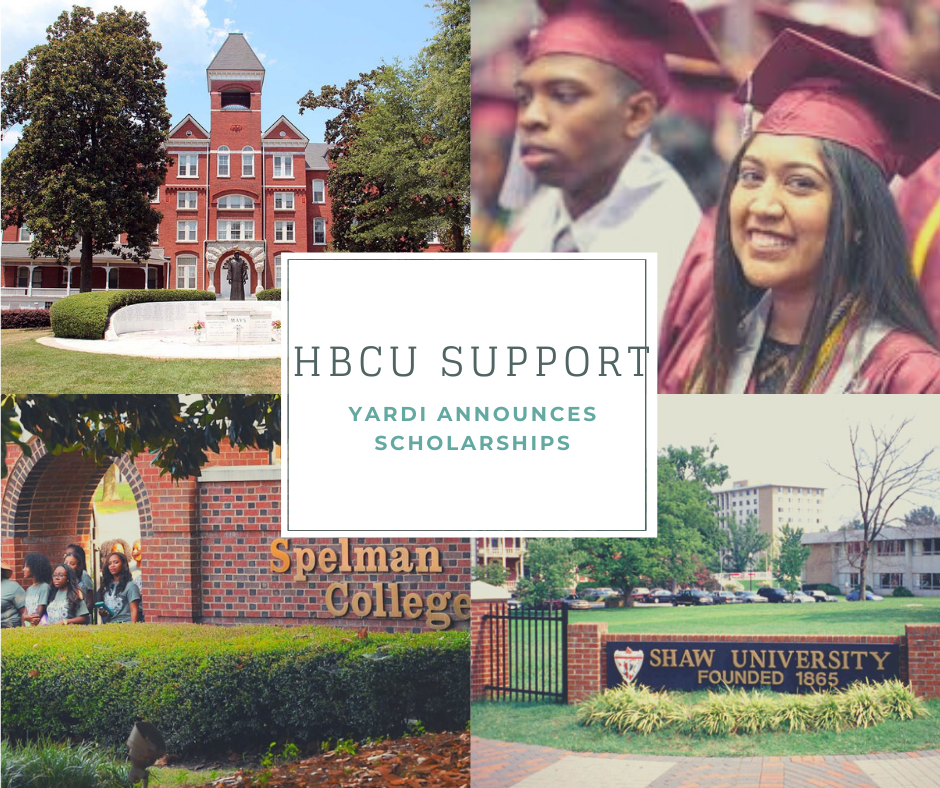 HBCUs are known for providing diverse and inclusive communities of scholarship, strong academic preparedness for post-college life and rewarding student and alumni experiences.
HBCUs Morehouse College, Spelman College, North Carolina Central University and Shaw University will be home to four-year full tuition scholarships funded by Yardi that will begin in Fall 2022.
Yardi already supports secondary education in its hometown of Santa Barbara, California through its support of the UC Santa Barbara School of Engineering, Santa Barbara City College, CSU Channel Islands, and the Santa Barbara Scholarship Foundation.
Reflecting Yardi's commitment to diversity and inclusion, Yardi's executive team decided to support secondary education at HBCUs. A working group of Yardi employees, James Armour, Jackie Jones and Adrian Paul led the effort to identify the best institutions to fund and the scope of the scholarships, supported by philanthropic leads Liana Rao and Arnie Brier.
"Expanding our commitment to continuing education by funding full scholarships at HBCUs is incredibly important to the company," said Rao. "These scholarships exemplify our corporate commitment to diversity and inclusion at Yardi. We hire talented folks from all four of these schools and are excited to expand our partnership with each university."
James Armour, Finance Director in Yardi's Atlanta office, commented on the critical impact that support of HBCU students can provide.
"In life, we have different starting lines and some people start ahead of others. I think this is just one step in moving that starting line for those who are at the back. I see this is as life changing for the recipients that will be receiving these scholarships. They will be that much closer to their goals," Armour said.
Jackie Jones, a Senior HR Manager in Yardi's Raleigh office and a graduate of NCCU, described the significant impact attending an HBCU had on her college experience and life.
"The HBCU experience, for me, was nurturing but also provided lessons at every turn," Jones recalled. "I still attend homecoming events each year when I can. I made friends during college who are still among my best friends today."
Marcus Rutherford, a member of Yardi's corporate training team, attended Johnson C. Smith University, an HBCU in North Carolina, said that his experience at the school has empowered his future.
"It's a legacy that I hold near and dear to my heart. As an alumnus I can encourage dreamers wanting to attend college to believe in their dreams. Don't just reach for the stars. Be the star," Rutherford said.Learn more about HBCUs and more about Yardi's corporate philanthropy efforts.