Access, Equity
By Erica Rascón on Sep 9, 2019 in Giving, People
If you see the picture on the right and think "wheelchair ramps," you've only seen the tip of the iceberg.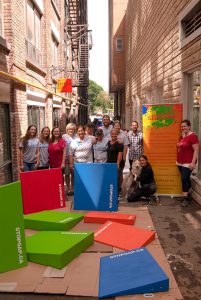 It's also a stroller ramp, an aid for people with chronic joint pain, a ramp for tiny kids with tiny legs, and a blessing for CrossFitters on leg day. In short, all sorts of people appreciate a gradual transition between spaces. Toronto-based StopGap helps businesses and organizations make such transitions possible at low or no cost while broadening the conversations on access and equity.
1 or 1,000 Steps, Same Problem
 Although Luke Anderson is an engineer, he had never paid much attention to the multitudinous businesses, places of worship, and public structures that used stairs to transition between spaces. Once Anderson began using a wheelchair daily, he noticed just how many buildings failed to offer barrier-free access to visitors and occupants.
While such access is essential for wheelchair users, others would benefit from barrier-free entry as well. The "curb cut affect" defines that when something is made easier for one population, it often helps members of other populations. Ramps for wheelchair users would also benefit delivery persons, the elderly, and others who are hindered by stairs.
Anderson, along with his friend and coworker Michael Hopkins, began to plan a way to bridge the gap between accessibility and the costs needed to improve accessibility.
Addressing the Gap
 Anderson is now the executive director and co-founder of StopGap, which aims to break down barriers one step at a time. StopGap Foundation works to create a world where every person can access every space. As a result, the non-profit is creating a world where everyone can live a life of independence, spontaneity, and ultimate fulfillment.
But the organization didn't begin with such grandiose plans.
"I thought it would be a one-time project," reflects Anderson. "We furnished 30-ish businesses with one-step ramps. But it was well received by the community. That told us that we need to do more of this. We've made more than 1,000 ramps so far."
Both the Human Rights Code and the new Accessible Canada Act stipulate that public buildings must be barrier free. StopGap helps businesses meet those requirements, better serve their clientele, and avoid fines and litigation.
Beyond the Ramp: Access and Equity
Raising awareness about physical barriers is just one part of the StopGap mission. The broader message of inclusivity and empowerment are perhaps most important.
"We want to change people's unconscious reactions to people with different lived experiences," explains Anderson. "We want to identify where barriers exist in buildings but also the barriers that exist internally. People have unconscious reactions to people with different lived experiences."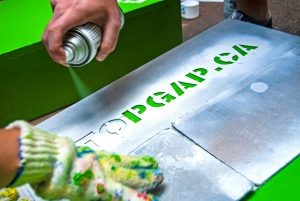 Language is a huge barrier. Disempowering language shapes the perception of and treatment of differently abled people: "handicapped," "disabled," "suffering from a disability," and "less fortunate," are examples of language that negatively impact those who operate differently in the world. As a result of such language, marginalized groups are often perceived as less capable, less educated, too needy, and more challenging to employ.
Anderson notes that many people with different lived experiences have learned the importance of inclusion, the value of different perspectives, and the necessity of creativity. "As employees, managers, and leaders we have developed a set of skills that helps us solve problems," he says. "It becomes a natural skill. We also must become cool with failure and disappointment and bounce back."
He adds, "There is a misconception that we're unable to do things. That leads to hiring practices that aren't inclusive as well as employment rates that don't match up with employment rates of people who don't identify as having a disability. There is an untapped pool of talent, people who are educated with amazing skills. Post-secondary education rates for people with disabilities are very close to the rate for people without, but there is a difference in the employment rate."
StopGap hosts educational programming to improve awareness about inequalities and promote equity amongst all humans. Events include workshops, public speaking engagements, and corporate team building activities.
Yardi is a proud sponsor of the nonprofit's school program. For one academic year, students participate in 35-minute sessions where they learn about barrier-free accessibility. Students are then equipped with the tools needed to educate others, go out into their communities and identify businesses in need of barrier-free modifications. And of course, the kids love painting the ramps.
Moving Forward
To propel the mission, StopGap relies on public support. Donations are always welcomed. Funds are also raised through the annual StopGap music tour. This year, it takes place September 19th from 6-8pm at The Cameron House.
The year ends with Ramp Up, a fundraiser that invites visual artists to paint ramps and then sell them at auction. Check the StopGap Facebook page for upcoming details!