YASC Digital
By Joel Nelson on Apr 30, 2020 in Uncategorized
Yardi is working to keep clients informed and connected during a challenging time for the real estate industry and the nation. Those efforts will continue in May with a one-of-a-kind digital Yardi Advanced Solutions Conference (YASC), offered entirely online for the first time and free to clients.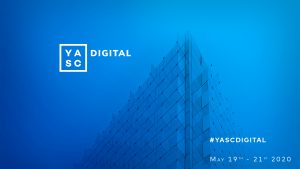 In some respects, this special edition of spring YASC won't differ from what it's been for two decades — a three-day educational event (Tuesday to Thursday, May 19-21) for clients to refresh their Yardi software skills and preview real estate technology innovations.
"We look forward to welcoming our clients and prospects to classes that reflect the same great learning and skill development opportunities they would have with us in person," said Tim Hoover, creative director for Yardi and producer of the biannual U.S. YASC events. "We're excited about YASC Digital, which will feature spotlight sessions with Yardi executives, chances to interact and engage with other attendees online, and more."
Participants in YASC Digital will be able to access more than 125 courses in 18 learning tracks on demand; May 19-21. This approach offers registrants flexibility for self-paced learning and for creating a personal plan that meets their business needs. Market-based registration tracks will make class selection a breeze.
As of today, Yardi plans to present the year's second U.S. YASC as usual in October. Last year's conference drew over 2,500 clients and Yardi staff members to San Diego. Fall YASC registration information is available here.
Clients will receive an email on May 12 with an access link to participate in YASC Digital.