Get More Signed Leases
By Erica Rascón on Feb 14, 2019 in Uncategorized
Leases are the backbone of your business. Getting them quickly signed leads to fewer vacancies, more revenue, and happier stakeholders. But to get there, you must convert your prospects. These six tips will help you get the signatures that you need with less waiting.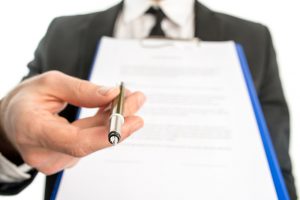 Close the deal in prospects' minds. Getting a lease signed begins as early as the property tour. Whether the tour is virtual or in-person, you can use language that promotes the sell. Verbally help prospects see themselves in the unit: "There are so many options for placing your couch in this spacious living room," or "Your kids will love the recently renovated playground." When it is time to sign, prospects already have a clear idea that their lifestyles are a fit in the community.
Incentivize signing the lease within 24 hours of the agreement. Verbal interest is great, but it doesn't pay the bills. To maximize a sense of urgency and minimize vacancy time, create an incentive for signing the lease within 24 hours. Perhaps waive the garage rental fee for a month or provide discounts for local services like pet sitting and dry cleaning. Offer what's valuable to the prospect in exchange for what's valuable to you, their commitment.
Guide indecisive prospects with facts. Use your property's desirability to your advantage. Gather data on how quickly units lease in the community, in the neighborhood, and any competitive advantages of renting promptly (like seasonal promotions). If there are other value-add features to your community, don't hesitate to share them. Follow your property facts with a signing incentive for maximum impact.
Make it easy to sign the lease. Make it simple for prospects to become residents. First, streamline the application and renewal process using leads-to-leases enabled property management software. Then ensure that prospects can submit their application, sign and renew their lease online. That way, there is an open path towards residency 24/7, even when your office is closed.
Consider a recorded walk-through. As you well know, empty units waste money. If turning a unit is postponed by an extended battle over the security deposit or grievance, you're wasting money. Minimize the risk and duration of conflict by recording your walk-throughs before each resident moves in. With video, you can easily differentiate existing damage in a unit from new damage.
Begin the lease renewal process well before the lease expires. When a resident signs the renewal in advance of the lease's expiration, you win on multiple levels. You better know how to prepare for the leasing cycle ahead and have more time to find a new resident, if needed.
How far in advance you issue the renewal depends on several factors. In hot markets with fast-moving units, you may issue the renewal a four to six weeks in advance. In a remote community with longer vacancy rates, three months in advance may be best. Rather than juggling dates in your mind, use your property management software to manage the lease and renewal process.