Westmont Living
By Erica Rascón on Oct 1, 2020 in People
Over the years, Yardi client Westmont Living has developed creative ways to honor esteemed residents. The tradition continues through the age of social distancing, requiring ingenious workarounds that still help residents feel appreciated and valued.
Honoring Lt. Dever's 105th birthday
Westmont Mariposa at Ellwood Shores is home to veteran Charles "Charlie" Dever. First Lt. Dever enlisted in the Army Air Corps in 1941, and he served as a lead navigator in the 98th Bombardment Group flying B-24s during World War II. Devers lived independently until he was 103. He then joined the family at Mariposa at Ellewood Shores. The quiet life that he now lives gave no indication of the surprise that awaited him for his birthday.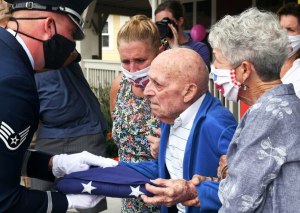 It began when Lt. Dever's daughter, Kathy, emailed Vandenberg Air Force Base to plan a surprise for her father. In response, the 30th Space Wing leadership notified its members of the momentous occasion. Active Air Force servicemembers near and far penned more than a hundred thank you letters to the veteran.
To deliver the letters and show their appreciation, Vandenberg staff, Kathy and Team Mariposa arranged a grand ceremony. Festivities kicked off with a color guard presentation and speeches by Westwood executive director Peter Bonilla and 30th Space Wing Commander, Anthony Mastalir.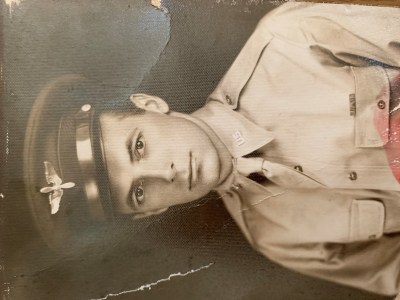 Mastalir presented Lt. Dever with a 30th Space Wing challenge coin and granted him honorary membership in the United States Space Force. Vandenberg leadership then presented Lt. Devers with an American flag.
Party planners arranged a car parade that would allow friends, family and community members to safely show their support for the veteran. Dozens of cars streamed through the property, showcasing their decorations, cheering and sending well-wishes to Devers.
During his speech, Commander Mastalir said, "While Charles will tell you that his years in the military were the greatest years of his life, (Devers) will be honest about the chilling feeling of sitting in the cockpit, clear nose of the plane with all of the fighting going on around him." He continued, "At 105 years old, Lt. Charles Dever is one of the few remaining individuals from the Greatest Generation. It is the legacy of warriors like Lt. Dever who have set the standard and expectation that I hope to achieve during my years in service."
Celebrating the Wyman's 71st anniversary
Donna and Lloyd Wyman were high school sweethearts from two close families. Their fathers, both clergymen, officiated their wedding. More than seven decades later, the sweethearts remain at each other's side in their Westmont Terraces of Chico residence. This year, they're celebrating their 71st wedding anniversary.
Their marriage has had its fair share of challenges. Lloyd followed in his father's footsteps, serving as a pastor at several churches throughout the Pacific Northwest. The couple managed raising a family together while enduring multiple relocations. In 2018, the Camp Fire forced them to leave their homes. This year, COVID-19 brought its own fair share of challenges for the seniors. Through life's ups and downs, the couple has remained steadfast and thrilled to celebrate each new year together.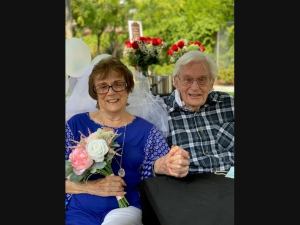 The staff of The Terraces of Chico hosted a COVID-conscious anniversary dinner for the Wymans. Staff decorated the property gazebo with lights and dozens of red roses. The culinary team prepared a delicious meal that ended with apple pie a-la-mode, one of the couple's favorite desserts. Along with their son and daughter-in-law, the couple celebrated their 71st anniversary with joy and gratitude.
Brad Azevedo, executive director of The Terraces of Chico said, "It was so great to see how happy everyone was. I'm not sure who was more excited, Donna and Lloyd, their son and his wife or the staff? It was a beautiful anniversary for them and we feel grateful to see them so happy."
Discover more Yardi clients who are making a positive impact on their residents and communities. Browse our People page.