Reimagining Affordable
By Mike Sederholm on Nov 9, 2022 in People
What does it mean to reimagine affordable housing? Who are the affordable housing property managers and compliance professionals leading the way? How do Yardi solutions fit in?
Stay tuned to The Balance Sheet over the coming months to read our new series highlighting the work and successes of who we are calling Affordable Housing Visionaries.
Throughout the series, we'll speak with affordable housing providers and learn how their use of evolving technology has helped them reimagine the future of affordable housing compliance.
Guardian achieves measurable outcomes with outsourced compliance
First in the series is Guardian, based in Portland, Oregon. Read on to learn how Guardian's Compliance Quality Assurance Manager, Allison Christensen, is leading the organization's embrace of outsourced affordable housing compliance expertise to build a stronger team and achieve measurable benefits.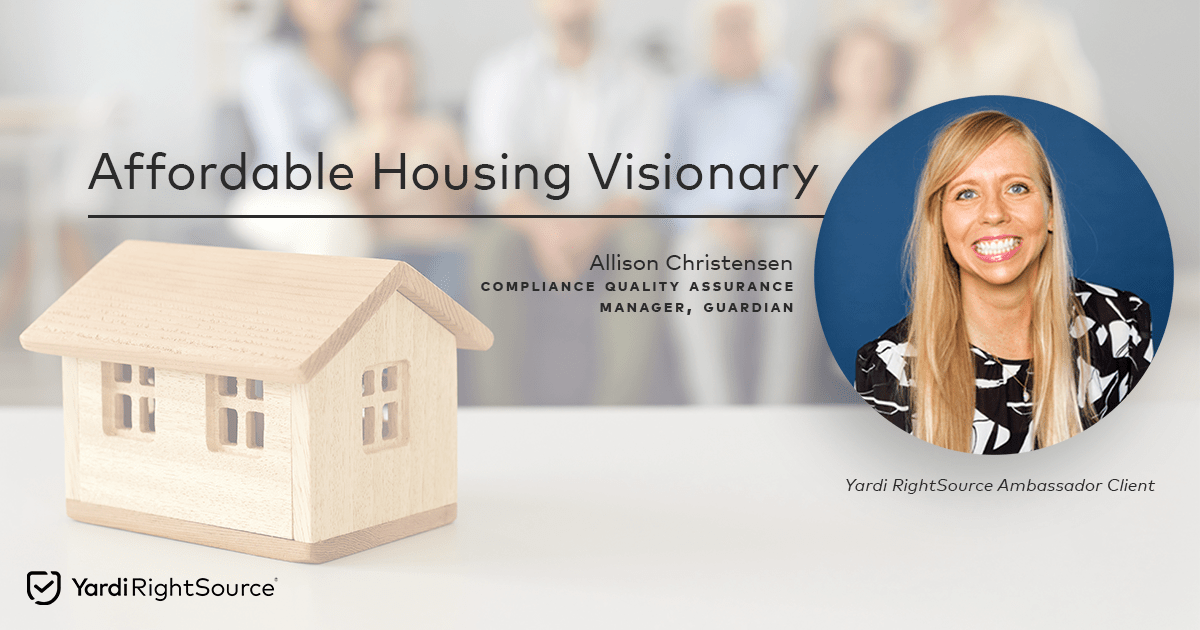 Q: Hi Allison! Please introduce us to Guardian.
AC: Guardian is a developer, owner and operator of multifamily properties. We provide innovative real estate solutions dedicated to community and housing for all. We are based in the Pacific Northwest, and our customer-focused team is committed to supporting and lifting the communities we serve.
Q: Describe an example of compliance technology that Guardian has implemented?
AC: In July 2020, we began contracting with Yardi RightSource to review affordable housing applicant and recertification files for completeness and compliance with our funding sources. We've found that RightSource has helped Guardian expedite our file processing times, improved our data accuracy and leveraged data integrations for greater efficiency.
Q: Tell us more about how data integration is valuable?
AC: Yardi Voyager is our core operating platform for managing properties, finance and affordable housing compliance data. And, because RightSource auditors have seamless integration with Voyager, we are assured that our compliance data is always accurate and up to date.
Q: How did Guardian adjust its team structure after adding RightSource compliance services?
AC: It's true that our staff assignments changed once we outsourced a portion of our compliance services. However, the process was done with care and consideration of all affected team members. Some of Guardian's former compliance team members were reassigned within the company, and others even began working at RightSource. Everyone landed in a great space. RightSource was very helpful in ensuring staff assignment changes were handled with care.
Q: Please describe Guardian's compliance reporting processes?
AC: One of the benefits of adopting new solutions is the ability to simplify processes which, in the past, may have been particularly stressful on staff resources. We've found that adding RightSource simplifies reporting because of how data is shared between auditors and Yardi Voyager. As part of the audit process, RightSource team members ensure compliance data is accurate while connected to the core Voyager database. That reduced chances for errors or misplaced data due to extraneous data transfers. So, when it's time for Guardian to compile data for compliance reporting, we feel assured our reports are accurate and reflective of everything our properties have achieved.
Q: How does training fit in with reimagining affordable housing?
AC: The complexities of affordable housing are real, and training has always been a core component of successful strategies. We provide our employees with self-paced instructional content that's available online. We've found this type of training resource is more effective than what the industry had traditionally relied on. RightSource makes the content available and updates it as compliance regulations evolve. It's a great resource for new and current staff.
Q: What is the central benefit Guardian has achieved by adopting new compliance technology?
AC: Communication. Embracing outsourced compliance services keeps us well informed with everything happening with our new resident applications and current resident recertifications. We can log in any time to see exactly where all files are in the queue. For example, which applicant files are incomplete, which are pending review, which are coming up for recertification, and on and on. RightSource promises a 24-hour turnaround for file review, and the reports show they are achieving that goal. Based on that efficiency, we've been able to certify applicants as move-in ready within five days.
Q: Any final words about RightSource?
AC: Our contacts at RightSource are always willing to share their affordable housing expertise. We value the personalized service available when issues need quick resolution. Some of our benefits from RightSource come from technology and automation, but perhaps an even bigger share can be attributed to the people we work with and the feeling of partnership. We put a lot of trust in who we choose as a compliance partner and are pleased with our decision to go with RightSource.
---