Megi Cara
By Katrina McDowell on Jan 6, 2023 in Global, People
Yardi's global offices make important contributions to property managers and investors worldwide. Meet Megi Cara, who plays a vital role in that process for clients in the UK and Europe.
Meet Megi Cara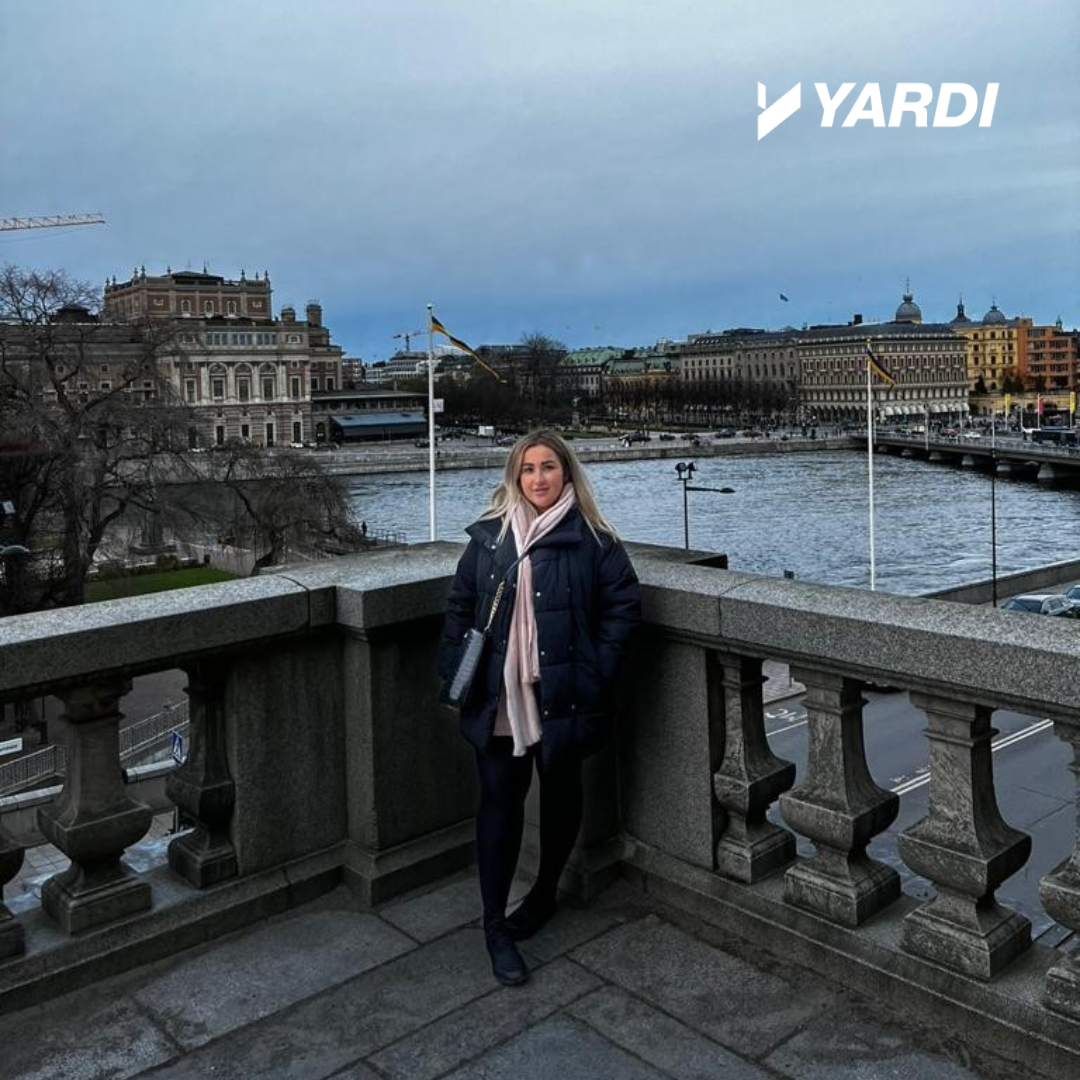 A Solutions Consultant based out of Yardi's Waterloo office in London, Cara serves prospects and clients across the UK, as well as in Ireland and the European Union.
"I am responsible for giving product demonstrations across our residential and coworking solutions," Cara said. These are two rapidly growing areas of service for Yardi UK.
Cara will celebrate her third anniversary at Yardi in February and can hardly believe how fast time has flown by.
"I love to learn, and at Yardi I learn something new on a regular basis and the products I demonstrate are accelerating at such a fast pace. It is really exciting to watch them evolve," she shared.
Cara spends her days at Yardi in a role that features much variety. She prepares for demonstrations, including setting up proof-of-concept scenarios, breaking down complex concepts, and making it easier for her audience to understand. She also sets up and tests new functionality within the residential or coworking product stack to ensure it performs as expected and is ready to go live on demonstration environments.
"I also work closely with our sales team to deliver webinars or product snapshots to our existing clients, so they get the most out of the solutions they have," Cara said.
She also enjoys attending conferences that feature emerging trends and technologies in real estate and highlight the needs and challenges of regional real estate professionals.
"The most recent event I attended was the Student Accommodation conference which touched on some very relevant topics such as the cost-of-living impact on the consumer," Cara said.
Evolving challenges
Cara previously worked on the client side before starting at Yardi and managed over 500 student beds across university housing developments in Central London.
"This was a very hands-on, operational role, and managing student accommodation is not for the faint-hearted; it comes with many challenges, from the student's expectations to strict compliance adherence and providing investors with the returns they require," she explained. "Looking back, I wish we had the technology Yardi provides today, as it could have made the operation much smoother!"
From the moment Cara started at Yardi, she has always felt supported by her colleagues and senior management. Teamwork is crucial in her day-to-day role, and she appreciates speaking and learning from colleagues worldwide.
"One of the things I appreciate the most as we are growing into such a large organization, but the approach and appreciation towards employees remain the same. I am proud to be part of it," she enthused.
Cara speaks highly of the company as a potential employer: "Yardi is very forward-thinking and innovative in both the market and the company, which listens to its customers and delivers exceptional service. It has a brilliant reputation that exemplifies the commitment to resources and continual development of products and services. The people and culture here bring many opportunities to learn and grow in your career, which should be embraced."
Yardi is hiring globally and interested prospective employees can explore opportunities on the Careers site.
World traveler
Cara lives in London and enjoys exploring the vast and vibrant city. From browsing different markets on Sundays to getting together with friends on Saturday nights, she is always loves to be out and about.
"I also like to travel to different countries on my holidays; this past year, I have been to the Dominican Republic, Stockholm, and Malta and already have some trips booked for next year, which I am very excited about," she shared.
Learn more about the dynamic members of #TeamYardi on the People page.